Primate Ayodele Releases Strong Message For Gov Uzodinma, Blasts Garba Shehu
Primate Ayodele Releases Strong Message For Gov Uzodinma, Blasts Garba Shehu—The leader of INRI evangelical spiritual church, Primate Elijah Ayodele has released a strong message for the governor of Imo state, Hope Uzodinma regarding the unfortunate events that has been happening in Imo state for some time.
We recall that yesterday, the country home of the governor was attacked and razed by fire, with properties and vehicles getting burnt to ashes.
Primate Ayodele in a live session revealed that Governor Hope Uzodinma is being fought by forces of Imo land and that they want to ensure the state is ungovernable for him.
The man of God made it known that this is happening because Hope Uzodinma became governor in a wrong way, and that he is not meant to be governor of the state, hence, the coming together of forces to fight him.
He however stated that the solution for peace to return to Imo state is returning Emeka Ihedioha as governor of the state, if not, the forces will continue to attack.
'' It's unfortunate that this happened to Hope Uzodinma who has been working well to see that everything goes well in his state.
The fact is the forces are fighting the governor and that is why the state is being ungovernable for him. There is a conspiracy in his government and the forces of the land are fighting him. This happens when something that doesn't belong to you is given to you; forces will come together to fight you, forces are fighting him, let them do what is right by restoring Emeka Iheadioha back as governor of the state for peace to reign''
Also, the man of God blasted the SSA On media to President Buhari, Garba Shehu for his comments on Isa Pantami's travails.
Garba Shehu had said that Isa Pantami, a minister of communications was young when he made some statements that encouraged terrorism, and that he has changed his orientation now.
Also, he compared the situation of Isa Pantami to that of Kemi Adeosun who resigned due to some discrepancies in her NYSC ceritificate. The presidential aide noted that Kemi Adeosun's case is higher than Isa Pantami's.
Primate Ayodele in his reaction maintained that Garba Shehu is one of the people misleading this government, and that he needs to think deeply before saying anything.
'Garba shehu is one of the people misleading Buhari's government, I am not sure he thinks very deeply before commenting on issues, Kemi Adeosun's case doesn't even warrant resignation because it was not totally her fault, but she willingly resigned because she is a woman of integrity, honour and note when she discovered that her certificates are not in order
But what Pantami has done is related to terrorism, it involved terrorist groups, its shameful, he doesn't even need to say anything, the first thing is to resign before anything if he is an honorable person, this position they are dragging is just for the main time, why stain yourself forever for a post that won't exceed eight years? Garba shehu also needs to be investigated for supporting Isa Pantami in such way, With Isa Pantami in this cabinet, it's a disgrace to Nigeria, this will cause chaos, conspiracy in his government, why must he still be there, on what account? Are they serving the nation or their pocket? Someone who is serving the nation will leave with honour and not wait till anyone to molest him because as it is now, he has been molested by this act. This also berates out DSS, Senators who did screening for him''
Furthermore, He adviced the government to beef up the security in nigerian universities because the terrorists are everywhere in the country.
JUST IN: Nationwide Protest To Remove President Buhari Holds On Democracy Day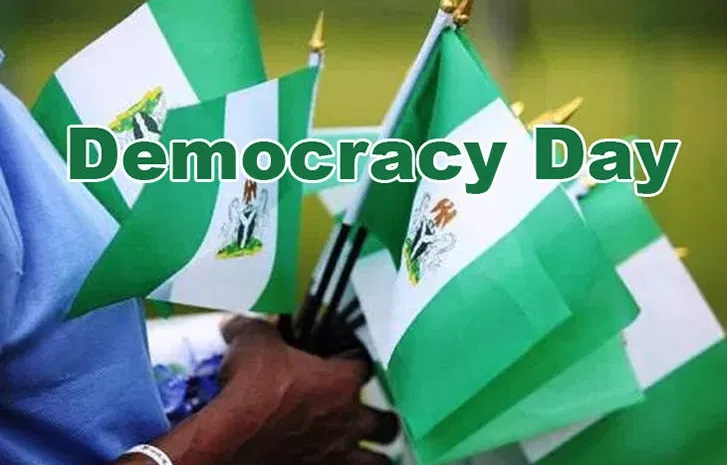 JUST IN: Nationwide Protest To Remove President Buhari Holds On Democracy Day—-Which "democracy day" are they talking about – the real one (29 May) or fake one (12 June)? Whichever, anyone contemplating such a protest is naive and misguided, as naive and misguided as those expecting President
Buhari to restructure Nigeria!
It is an unfortunate characteristic of certain Nigerians to indulge in unreasonable expectations. Even when the solution to their problem is obvious to all reasonable minds, the unreasonable ones disturb our peace with their unreasonableness.
Look, Nigerians, take measures (including acquiring weapons of self-defence and fervent prayer) to avert a religious and inter-tribal war that is loading for 2022.
With that war averted and Nigeria getting another chance to exist as one country, massively support a South-Easterner to succeed President Buhari – on APC platform, of course.
With a South-Easterner as President of Nigeria from 29th May 2023, restructuring will happen naturally. Restructuring is South-Eastern as South-Eastern is restructuring.
What we see is that those calling for exit of President Buhari from office before 29th May 2023 and those unreasonably asking him to restructure Nigeria are mischievous individuals who want to truncate the very high prospect of a South-Easterner succeeding him on APC platform, thereby ending Nigeria violently.
They know that realistic promise of President of Nigeria of South-East extraction on APC platform from 29th May 2023 is now the only guarantee of Nigeria's unity, peace, security, prosperity and true greatness – for the first time in history.
We shall not let them plunge Nigeria into avoidable destructive crisis from which the country will not survive. We must help them to stop that silly pressure on President Buhari to restructure Nigeria or to vacate Aso Rock Presidential Villa prematurely.
BOMB!!! FFK Says Bola Ahmed Tinubu Is Closer To 100 Years Than Claimed 69
Ohanaeze Ndigbo And The Quest For President Of Nigeria Of South-East Extraction
Ohanaeze Ndigbo And The Quest For President Of Nigeria Of South-East Extraction—-Over the years, since South-East APC Integrity Group was founded in 2015 and its South-East APC Presidency Project 2023 was launched in January 2020, we have quietly and pleasantly observed the positive disposition of successive Ohanaeze Ndigbo leadership to our quest for emergence of Nigeria's President of South-East extraction.
Since His Excellency, Ambassador Professor George Obiozo became President General of the Igbo sociocultural organisation, he has taken that positive Ohanaeze disposition to a much higher and more determined level, and we must commend his patriotism, determination and focus.
However, Ohanaeze is not a political party and it is in fact not expected to dabble into partisan politics. By all means, let Ohanaeze express their sentiments on the question of where President Buhari's successor would come from, after all, Ohanaeze leaders and members are equal stakeholders in the Nigerian project. But the issue of who would become President Buhari's successor will be settled first at political party primaries.
And Ohanaeze, not being a partisan organisation, will not be in a position to dictate to any party the area that it should pick its presidential flag-bearer from.
So, the Ohanaeze advocacy on the subject must be understood to have limited expectations. What we expect Ohanaeze to do is to charge its members and Igbo persons who are members of the various political parties to engage their party structures with a view to persuading them to vote for the best South-Easterner aspiring for Presidency on their party platform.
That is what South-East APC Presidency Project 2023 has been going since January 2023 and will continue to do, that is, engaging APC structures to support the best presidential aspirant of South-East extraction that we will recommend to our party (APC) to become our party's 2023 presidential candidate.
We expect PDP members and members of other parties who are of South-East or even Igbo extraction to emulate South-East APC Presidency Project 2023.
At the end of the day, following the presidential primaries of the various political parties, the South-Easterner picked by the most serious party will be presented to Ohanaeze, PANDEF, Afenifere, ACF, Middle Belt Forum and other sociocultural organisations for their support of that presidential candidate of South-East extraction.
For now, let PG Obiozo and his fellow Ohanaeze leaders go quiet on 2023 Nigeria's presidential aspiration, lest their zeal and passion become deliberately misinterpreted by Igbophobes and other enemies of Nigeria's peace, reconciliation, unity, security and prosperity.
Dr. Chinedu Jideofo-Ogbuagu,
National Coordinator,
South-East APC Presidency Project 2023.
08023163451, 08077010324, 07068400040.