OBJ: "Nigerian May Disintegrate Due To Buhari Administration's Impunity"
Former President Olusegun Obasanjo has expressed fear of Nigeria disintegrating under the leadership of President Muhammadu Buhari.
Obasanjo who disclosed this at Frederick Fasehun 1st Memorial Lecture on Saturday February 29, stated that there is still a window of opportunity to stop a "possible and indeed likely agitation for self-determination that will be violent, destructive and all-empowering."
The former President who also took a swipe at those beating "drums of war and domination", recalled how they planned to suppress the Biafran rebellion within three months. He disclosed that they nearly lost the Biafran war which took thirty months, as he insisted that Nigeria may not survive another civil war.
Obasanjo said;
"Nigeria belongs to all Nigerians on the basis of freedom, equality, equity, justice, fairness, peace, security, cooperation, mutual dignity, respect, shared values and shared prosperity.

"If these factors are removed, Nigeria falls to pieces. But for now, we can still make hay while the sun shines.

"Are all these people speaking the truth enemies of the government? Are apologists just telling the President what they believe he wants to hear? Do they believe that they are being fair to Nigerians and indeed to President Buhari? Do they remember that there is a day of judgement when they have to render account before God? I know for sure that God has the best in stock for Nigeria. And do they consider the present situation as the best for Nigeria?

"Today, the agitation has moved up to restructuring. Thanks to Buhari's administration and its impunity and all. With the fractional political division, poor management of the economy, the non-protecting security and the politics of uncertainty in the land, we should not allow the restructuring agitation to degenerate to self-determination agitation.

"There is still a window of opportunity for us to nip in the bud a possible and indeed likely agitation for self-determination that will be violent, destructive and all-empowering. We have descended to lack of civility bordering on uncivilisation, indignity, mutual disrespect and crudity in the language of our debate, dialogue, discourse, address, comments and remarks across tribe, section, religion, region, ethnicity and community. If not halted, it will degenerate and poison the atmosphere to the tipping point or point of no return. If the issue becomes conceptualised as an issue of freedom or liberation, there will be no wall or gate to effectively prevail against it. Some well-meaning Nigerians are worried and understandingly so.

"Threats and intimidation do not build a community, they rather destroy. The language of love, knowledge, understanding, appreciation, consideration, compassion, cooperation, forgiveness and accommodation should be the language to build our nation. We should be honest and courageous enough to tell ourselves home truth for self-education and for the edification of our country. If we shirk our duties to our country because we are afraid of threats, intimidation, blackmail or being called names, we are not worthy of being called patriots or nationalists.

"While the unity and integrity of Nigeria will be defended with all that I can muster but surely not at the expense of my liberty, human dignity, freedom of choice, and human rights. I will not relent by exerting effort, ability and capability to make a contribution to the development and progress of my land of birth. If I allowed myself to be enslaved in Nigeria, I would have left a shameful legacy for my children and their succeeding generation forever. May God forbid!

"In that way, my existence in life would amount to naught. "If the hands cannot be swung", the saying goes, "they are better held above the head perpetually". My services to my country and to humanity would have ended in total failure as I would have lived not to carry out the divine mission of making better what I found. If I fought racial and tribal injustice and oppression in South Africa, Angola, Mozambique, Namibia and South Sudan tenaciously and successfully, it would be remiss of me to do any less in Nigeria. It is a divine duty and responsibility which must be attended to, if necessary.

"It would appear that the National Assembly is fully aware of the lurking danger and wants to be proactive which is commendable. But the Nigerian Constitution does not give the National Assembly the power to write a new Constitution but the power to amend existing one. What is required is a new Constitution to meet the agitation and aspiration of all Nigerians and to allay all fears.

"The Executive and the Legislature need to work together to establish a Constituent Assembly. The exercise must not be compromised like the present Constitution; it must have full legitimacy of 'we the people'. Talking of a new Constitution, maybe we should try a hybrid Constitution of President and Prime Minister sharing executive power in a Presidential cum Parliamentary system. And before we descend any further, let me warn, from experience, those who are beating the drums of war and domination from all quarters. I joined late Bisalla, under General Hassan Katsina, to write the appreciation and the operational instruction for the Civil War.

"We estimated that Federal Government would suppress the Biafran rebellion within three months. To make allowances for the unforeseen, we allowed six months. But it took us thirty months, five times what we allowed for, and what is more, we nearly lost the war. And as a Field Commander at the end of the war, I can attest that we fought with all Nigerian tribes including Igbos against Biafra.

"And if after over ten years of fighting Boko Haram, the terrorist group is still waxing strong, let nobody out of self-delusion think that a war of self-determination by one or more geopolitical zones of Nigeria with the present disenchantment would be easily suppressed by the rest of what may remain of the country. Some will fight to the last drop of the blood of their group rather than suffer the indignity of slavery, oppression, domination and atrocious injustice in the land of their birth and the only one that they can call their country.

"If Boko Haram can get an outside support, any geo-political zone opting for self-determination may equally get an external support. War may not necessarily go as planned, estimated and predicted. Everything must, therefore, be put in place to avoid a war, the end of which no one can precisely predict. There is no assurance that Nigeria can survive a second civil war. But rather, we should seek political solution and avoid a destructive civil war."
TRENDING: Pastor's Wife Who Mistakenly Sends Her N*de Video To Church Whatsapp Group Attempts Suicide
Pastor's Wife who mistakenly sent her Nude Video to members of her church using the WhatsApp texting service on mobile phones has reportedly attempted suicide out of embarrassment.
Pastor's Wife who mistakenly sent her Nude Video to members of her church using the WhatsApp texting service on mobile phones has reportedly attempted suicide out of embarrassment.
'Osofo Maame' who has become a subject of public discussion, especially among members of the husband's church, was reported to have tried drinking a
liquid poisonous substance
but for the timely intervention of family relations who have for all this while kept an eye on her after she sent photos and videos of her genitals to them.
According to information gathered by mandynews.com, the woman in her mid-30s who is nursing a 6-month-old baby intended to send the pictures to her husband who was on a trip outside the country only for it to be mistakenly land on the church group.
Worse, the news source said the woman sent a message that reads "It's all yours when you return" along with the photos meant for the pastor of a prominent Church (name withheld)
To her utter dismay, she reportedly realized her mistake right after pressing the send button on her mobile phone.
Members of the church group who received the photos, videos and message were shocked and outraged. They tried to call up the pastor's wife, who wouldn't answer. The then started quitting the group one after the other.
In two separate videos, 58 and 31 seconds respectively, she is seen facing the camera, kneeling, wiggling her waist and fondling herself concurrently.
That was after she was earlier captured in a bath showcasing her thighs among others while capturing what she was doing.
Interestingly, a child believed to be hers is heard crying in the background but the lady who appeared to be enjoying herself turned deaf ears to the child.
Embarrassment As Twitter Deletes Minister Keyamo's Leaked Chat With Eedris Abdulkareem
Embarrassment As Twitter Deletes Minister Keyamo's Leaked Chat With Eedris Abdulkareem—-The Genius Media Nigeria reports that Twitter on Sunday deleted tweets by the minister of state for labour and employment Festus Keyamo where he leaked private conversation between him and singer Eedris Abdulkareem.
This reliable platform gathered that Part of the tweets made on Saturday night contained Eedris' phone number.
In deleting the tweets, Twitter said the minister "violated the rules" of the platform.
Mr Keyamo had held nothing back in attacking Eedris, claiming the singer made a poor attempt at blackmailing him in his new song 'Jaja Jaga Reloaded'.
The minister claimed Eedris once begged to be part of the Buhari Campaign Organisation which he directed in 2018.
"In 2018, when I was named the Director of Strategic Communications for Buhari Campaign Organisation, Eedris waxed a song in support of Buhari and wanted to join us, albeit for a fee. He then made desperate efforts to see me through text messages from his phone no," the now-deleted tweet read.
Shortly after Twitter took down the leaked chat, Keyamo tweeted: "Job done."
Job done!✌️

— Festus Keyamo, SAN (@fkeyamo) April 25, 2021
EXPOSED!!! How Kogi Governor Yahaya Bello Allegedly Misused N4.5Billion COVID-19 Funds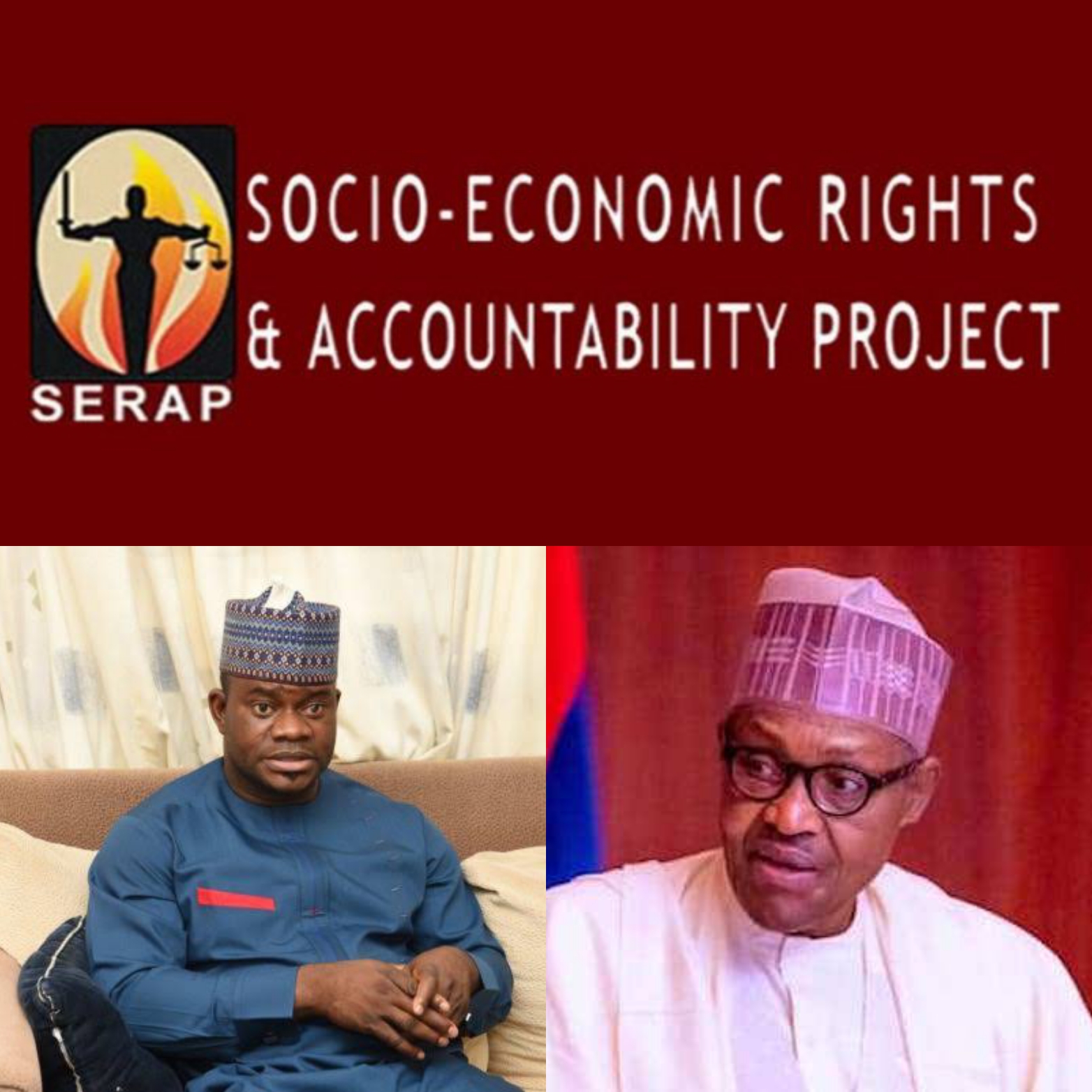 Accordďing to reports SERAP GROUP, the President of the Federal Republic of Nigeria is being called upon to proble Kogi Governor who is alleged to have misused N4.5bn COVID-19 funds.
The Genius Media Nigeria gathered that Socio-Economic Rights and Accountability Project, SERAP, the public advocacy group has urged President Muhammadu Buhari to "direct the Attorney General of the Federation and Minister of Justice Abubakar Malami, SAN and appropriate anti-corruption agencies to investigate alleged misuse of the N4.5 billion donations, loans and support the Kogi State government obtained from the Federal Government, including N90,720,000 reportedly spent on software to track COVID-19 cases in the state."
SERAP stated that "if there is relevant and sufficient admissible evidence, anyone suspected to be involved should face prosecution, as appropriate."
In the letter dated 27 March 2021 and signed by SERAP deputy director Kolawole Oluwadare, the organization said: "Directing the Attorney General of the Federation and appropriate anti-corruption agencies as recommended is constitutional, and would be entirely consistent with your promise in your inaugural speech to 'ensure responsible and accountable governance at all levels of government in the country.'"
SERAP quoted Buhari as promising in his inaugural speech on 29th May, 2015 that: 'The Federal Government would not fold its arms and close its eyes to what is going on in the states and local governments. It will ensure that the gross corruption at the local level is checked. For I will not have kept my own trust with the Nigerian people if I allow others abuse theirs under my watch.'"
SERAP stated: "As you have correctly stated, the obligations of your government to combat corruption in Nigeria extend to all the three tiers of government, namely, the federal, state and local governments."
The letter, read in part: "Although primarily a matter of concern for Kogi State, the allegations of misuse of COVID-19 funds drawn from the Federal Government have assumed such a proportion as to become a matter of concern to the federation as a whole, and therefore, to your government."
"SERAP is concerned about growing allegations of corruption and mismanagement of public funds in several of the 36 states of the Federation, and the apparent lack of prompt, thorough, independent and transparent investigations into these allegations, allowing suspected perpetrators to frequently escape justice."
"Taking prompt action to probe the allegations would promote transparency and accountability, serve the common good, peace, order and good government of the federation (which includes Kogi State through the Kogi governor). It would help to enhance your government's fight against corruption and contribute hugely to improving the public confidence and trust in your commitment to combat grand corruption."
"We would be grateful if the recommended measures are taken within 14 days of the receipt and/or publication of this letter. If we have not heard from you by then, SERAP shall take all appropriate legal actions to compel your government to comply with our request."
"SERAP also believes that given the history of corruption in Nigeria, especially several unresolved allegations of grand corruption involving many of the 36 state governments, your government cannot and should not look the other way regarding the allegations of misuse of COVID-19 funds involving the Kogi State government. Such allegations in any state of Nigeria are of concern to every Nigerian, and should therefore be of concern to your government."
"Taking the recommended measures would also show that your government is concerned with the overall well-being of the federation and willing and able to enforce important constitutional principles."
"According to our information, the Kogi governor in 2020 allegedly spent N90,720,000 on 'COVID-19 software.' The software was reportedly approved by Governor Yahaya Bello, for tracking COVID-19 cases and prevent the spread of the disease in the state. However, the company that developed the software has reportedly stated that it costs only N300,000."
"The software has reportedly stopped functioning just one year after it was installed. The N90,720,000 spent on COVID-19 software is part of the N4.5 billion donations, loans and support, which Kogi State reportedly obtained from the Federal Government."
"Ensuring the investigation and prosecution of the allegations would also be entirely consistent with the provisions of section 15 subsection (5) of the Nigerian Constitution 1999 [as amended], which requires your government to abolish all corrupt practices and abuse of power, regardless of the state where such practices are taking place."
"Section 15 specifically defines "government" to include the government of the federation, or of any state, or of a local government council or any person who exercises power or authority on its behalf."
"Similarly, the Attorney-General of the Federation has power, conferred on him by section 174(1)(a) of the Nigerian Constitution, and anti-corruption agencies have the powers to act on the allegations of misuse of the N4.5 billion donations, loans and support by the Kogi State government obtained, including N90,720,000 spent on software to track COVID-19 cases in the state."
"Our requests are brought in the public interest, and in keeping with the requirements of the Nigerian Constitution; the country's international obligations including under the UN Convention against Corruption, and the African Union Convention on Preventing and Combating Corruption, as well as your expressed commitment in your inaugural speech on 29th May, 2015 'to check gross corruption at the local level.'"
The letter is copied to Mr Malami; Professor Bolaji Owasanoye, Chairman Independent Corrupt Practices and Other Related Offences Commission (ICPC); and Mr Abdulrasheed Bawa, Chairman, Economic and Financial Crimes Commission (EFCC).