Adamu Garba Sent Strong Warning To Those Celebrating The Death Of Chief Of Army Staff—The Genius Nigeria has confirmed that General Ibrahim Attahiru, Nigeria's Chief of Army staff Lt. Gen. Ibrahim Attahiru and 10 other officers were killed Friday in a plane crash which happened in Kaduna.
The Genius Media Nigeria reports that the news of his death was confirmed by the Nigerian Air Force, who stated that the details of the accident is yet to be revealed.
Following the death of the late Chief Of Staff, Nigerians have expressed how they feel, as some were sad over the news, stating that he has proven that he was ready to work. Others expressed their happiness over the news.
Adamu Garba II, has tweeted on his official Twitter account, as he drop a message for those jubilating over his death. See what he said; "To those celebrating the death of General Attahiru, I have a news for you!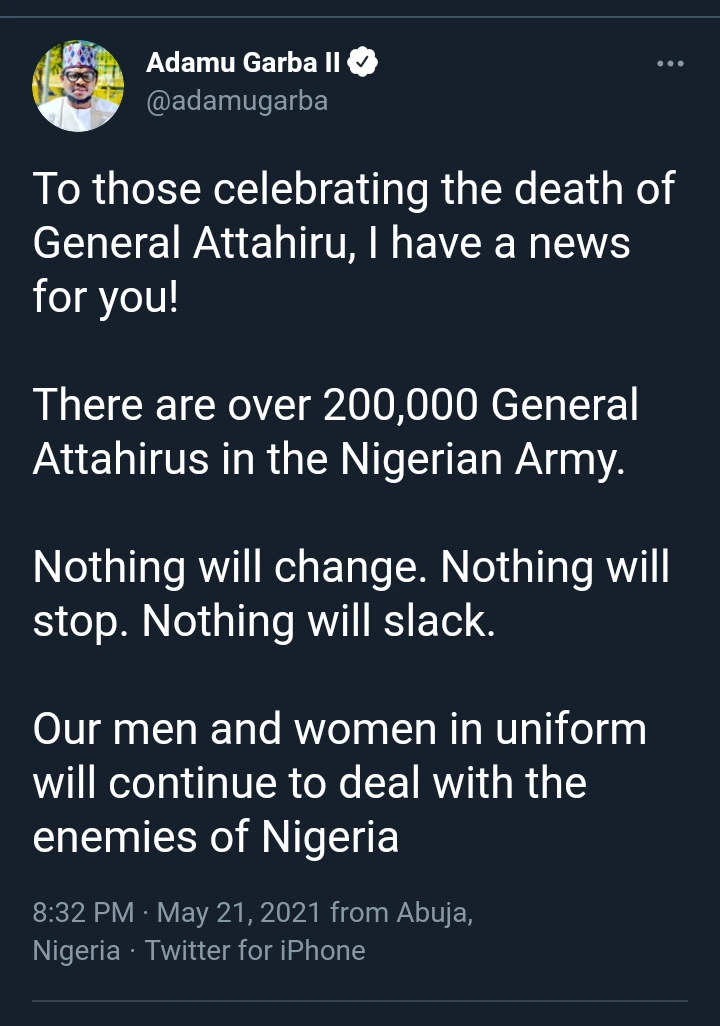 There are over 200,000 General Attahirus in the Nigerian Army. Nothing will change. Nothing will stop. Nothing will slack.Our men and women in uniform will continue to deal with the enemies of Nigeria".
See reactions of Nigerians;