JUST IN: BIC Launches 2021 BIC Art Master
JUST IN: BIC Launches 2021 BIC Art Master……Continent-wide search for the best pen artists in its fourth edition.
BIC, a world leader in Stationery, Lighters and Shavers, announced the launch of its continent wide Art competition. The Stationery giant is searching for talented ball pen artists to submit their exceptional artwork for an opportunity to be named the Art Master of Middle East and Africa.
The BIC Art Master competition was first held in South Africa in 2017 and, following its success, it grew to include all of Africa in 2019. In 2021, the competition is expanding further to include the Middle East region. The region is packed with immensely talented people and in its 4th year, the BIC Art Master contest plans to recognize and celebrate these artists. Using only BIC ballpoint pens, entrants have the freedom to express their creativity while playing on this year's theme, "Enchant Everyday Life". Artists can submit a maximum of three original and authentic artworks of what inspires and brings them joy on www.bicartmaster.com before the 31st of May 2021.
"With our diverse Nigerian culture, we are excited to be launching this year's edition of the BIC Art Master Competition that acts as a platform to recognize and showcase African talents. The competition was a great success last year and we are already very impressed with the submissions that we've seen in the first couple of days since launch." said Guillaume Grouès, Deputy General Manager Lucky Stationary Nigeria Ltd and Senior Sales Manager West & Central Africa.
Submissions will be evaluated by a panel of judges that include a mix of artists, sculptures, art professors and art collectors. The grand prize for the competition is $2,000, a personalized online gallery and an opportunity to be featured as part of the BIC Art Collection. The 2nd prize winner will walk away with a $1,000 cash prize, and the 2nd runner-up will win a $500 cash prize. This contest is open for Africa and Middle East residents only.
BIC's connection to art spans more than 60 years. The brand regularly celebrates the creativity and originality of artists who find great inspiration in creating masterpieces using BIC's Stationery, Lighters, and Shavers products. BIC's Art Collection includes over 250 works of art by 80 international artists. In addition, BIC has a number of established partnerships with art institutes around the world and has its products displayed in a number of renowned museums around the world. The judging partners include, Geoffrey Bich, Enam Bosokah, Aboudouh Akinde Fatiou, Valérie Manouvrier, Hervé Mikaeloff and Ennock Mlangeni. Link to judges profiles: BIC Art Master
Watch As Sunday Igboho Escaped Another DSS Attack In Osun
Watch As Sunday Igboho Escaped Another DSS Attack In Osun—-The Genius Media Nigeria reports that popular Yoruba activist, Sunday Igboho has successfully escaped another ploy by the DSS to attack him during the Yoruba nation rally that took place in Osun yesterday.
This reliable media gathered His media aide, Koikimedia uploaded a video of a man whom he described as a DSS officer sent to bug and take pictures of Sunday Igboho's vehicle and plate number during the protest.
He explained that the man confessed following an interrogation with him
Read his full statement
One of the DSS Department of State Security that was apprehended at today's Osun State mega Rally name as
Mr Seun Olayinka working with Federal Government under DSS was caught today 15th May 2021
During our interrogation with him he said that he was sent by the Federal Government working on behalf of DSS to target one person Chief Sunday Igboho vehicles.
He confirmed to us that the mission was to bug and take pictures Chief Sunday Igboho's vehicles plate number.
We had to do a quick security check using our own GPS DETECTOR to make sure the vehicles was not bug.
We would give further details after the report from our forensic expert….Says Olayomi Koiki
CLICK THE LINK BELOW TO WATCH VIDEO HERE:
https://www.facebook.com/IKOIKIMEDIA/videos/3990726181018321/
Fayemi, Sanwo-Olu, Amosun And Others Celebrate Shina Peller As Exemplary Leader At 45 [PHOTOS]
Fayemi, Sanwo-Olu, Amosun And Others Celebrate Shina Peller As Exemplary Leader At 45 [PHOTOS]—–Chairman of the Nigeria Governors' Forum (NGF) and Ekiti State governor, Dr. John Kayode Fayemi, Lagos State governor, Babajide Olusola Sanwo-Olu, immediate past Ogun State governor, who is now a serving senator, Senator Ibikunle Amosun and other important personalities both home and outside the country have joined in celebrating Hon. Shina Peller on the occasion of his 45th birthday anniversary.
Fayemi, Sanwo-Olu, Amosun And Others Celebrate Shina Peller As Exemplary Leader At 45 [PHOTOS]
Speaking on Friday at the National Security and Peace Symposium organized by Lead Generation Initiative (LGI) to mark the 45th birthday of the federal legislator, Dr. Fayemi, who was also the Chairman of the occasion, commended Hon. Peller and LGI for choosing to celebrate his birthday with such a purposeful security symposium as part of his own contribution to addresing the menace of insecurity in the country.
Similarly, Dr. Fayemi added that the security and other challenges that the country battles with can be overcome if the causes of the problems are reasonably addressed and dealt with. He listed some of the causes to include poverty, inequality and unemployment.
He said,
"We are all here because we believe in a cause we need to commit ourselves. At the moment, we know our country is going through a lot of challenges. But these challenges are not insurmountable. These are challenges we can overcome.
"Countries that are in more security situation than Nigeria have overcome it. We can achieve this if we are single-minded, if there is sincerity of purpose, if we are committed about transforming Nigeria for the better, and understanding our challenges for what they are.
"If we are honest, purpose driven, dedicated and determined, we will put behind all the triggers of violence in the land; be it insurgency, banditry, kidnapping, armed robbery and so on, as long as we are tough on the causes of the crime. We all know the causes of the crimes in our country. Inequality, poverty and unemployment are major aspects of it."
In his own congratulatory message to the celebrant, Lagos State governor, Babajide Olusola Sanwo-Olu in a congratulatory birthday letter he personally signed, described Hon. Peller as an exemplary politician, a patriotic Nigerian, a selfless member of the House of Representatives and a worthy ambassador of Oyo State. Governor Sanwo-Olu added that he is ever proud of the giant strides he has made in politics and described his contributions to the development of his constituency as unparalleled.
The letter read:
"On behalf of the Government and people of Lagos State, I congratulate you on your 45th birthday.
"The anniversary of your birthday provides an opportunity to celebrate you for being an exemplary politician, a patriotic Nigerian, a selfless member of the House of Representatives and a worthy ambassador of Oyo State.
"Despite the challenges associated with representing diverse people, you have demonstrated uncommon love for your constituents, and the uncanny ability to prioritize their interests.
"I am proud of the giant strides you have made in politics and your unparalleled contributions to the development of Iseyin/Itesiwaju/Kajola/Iwajowa Federal Constituency.
"The Peace and Security Symposium being organized to mark your birthday embodies your love for the continued unity, peace and wellbeing of Nigeria. As you celebrate your 45th birthday, I pray for better strength and wisdom to keep serving your people.
"May your life remain impactful, productive and inspirational."
Senator Ibikunle Amosun, in his own congratulatory letter, maintained that Hon. Peller's life is an eventful one with many positive impacts both in business and politics. He prayed that God grants him long life in good health so that his constituents, Oyo State and Nigeria at large will continue to benefit from his service.
The letter read in part:
"Yours has been an eventful life with many positive impacts, most notably, in business and politics. I wish you a happy birthday, and pray that Almighty God will grant you more years, in good health so that your constituency, Oyo State and the nation at large, will continue to benefit from your service."
Other prominent personalities who were at the National Security and Peace Symposium to celebrate Hon. Peller's 45th birthday included former Governor of Oyo State, Otunba Adebayo Alao-Akala, former Governor of Ogun State Senator Ibikunke Amosun, former ministers; Senator Musiliu Obanikoro, Barrister Adebayo Shittu and wife of the immediate past Governor of Oyo State, Senator Abiola Ajimobi, Mrs. Florence Ajimobi.
Furthermore, the symposium with the theme – National Security and Peace: Role of Government, Citizens and Institutions", which had Professor Isaac Olawale Albert as the keynote lecturer, also witnessed the presence of HRM Oba Saliu Adetunji, Olubadan of Ibadan, HRM Oba Abdul-Rasheed Adewale Akanbi, Oluwo of Iwo Land, HRM Oba Rafiu Mustapha, Onjo of Okeho, representatives of the Alaafin of Oyo and Ooni of Ife as well as other revered royal fathers and traditional chiefs.
Also in attendance were some members of the House of Representatives like Hon. Akin Alabi, Hon. Musiliu Akinremi, Hon. Akeem Adeniyi Adeyemi, Hon. Tolulope Akande-Sadipe, Hon. Femi Bamisile, Hon. Olumide Ojerinde and others.
JUST IN: Nationwide Protest To Remove President Buhari Holds On Democracy Day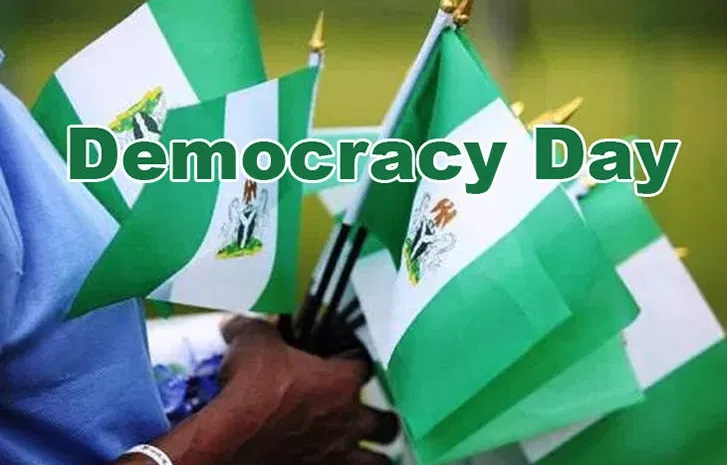 JUST IN: Nationwide Protest To Remove President Buhari Holds On Democracy Day—-Which "democracy day" are they talking about – the real one (29 May) or fake one (12 June)? Whichever, anyone contemplating such a protest is naive and misguided, as naive and misguided as those expecting President
Buhari to restructure Nigeria!
It is an unfortunate characteristic of certain Nigerians to indulge in unreasonable expectations. Even when the solution to their problem is obvious to all reasonable minds, the unreasonable ones disturb our peace with their unreasonableness.
Look, Nigerians, take measures (including acquiring weapons of self-defence and fervent prayer) to avert a religious and inter-tribal war that is loading for 2022.
With that war averted and Nigeria getting another chance to exist as one country, massively support a South-Easterner to succeed President Buhari – on APC platform, of course.
With a South-Easterner as President of Nigeria from 29th May 2023, restructuring will happen naturally. Restructuring is South-Eastern as South-Eastern is restructuring.
What we see is that those calling for exit of President Buhari from office before 29th May 2023 and those unreasonably asking him to restructure Nigeria are mischievous individuals who want to truncate the very high prospect of a South-Easterner succeeding him on APC platform, thereby ending Nigeria violently.
They know that realistic promise of President of Nigeria of South-East extraction on APC platform from 29th May 2023 is now the only guarantee of Nigeria's unity, peace, security, prosperity and true greatness – for the first time in history.
We shall not let them plunge Nigeria into avoidable destructive crisis from which the country will not survive. We must help them to stop that silly pressure on President Buhari to restructure Nigeria or to vacate Aso Rock Presidential Villa prematurely.