"I'm Now Phd In View" -Silverbird Producer Celebrates Nollywood Filmmaker Who Paid For Her Jamb Form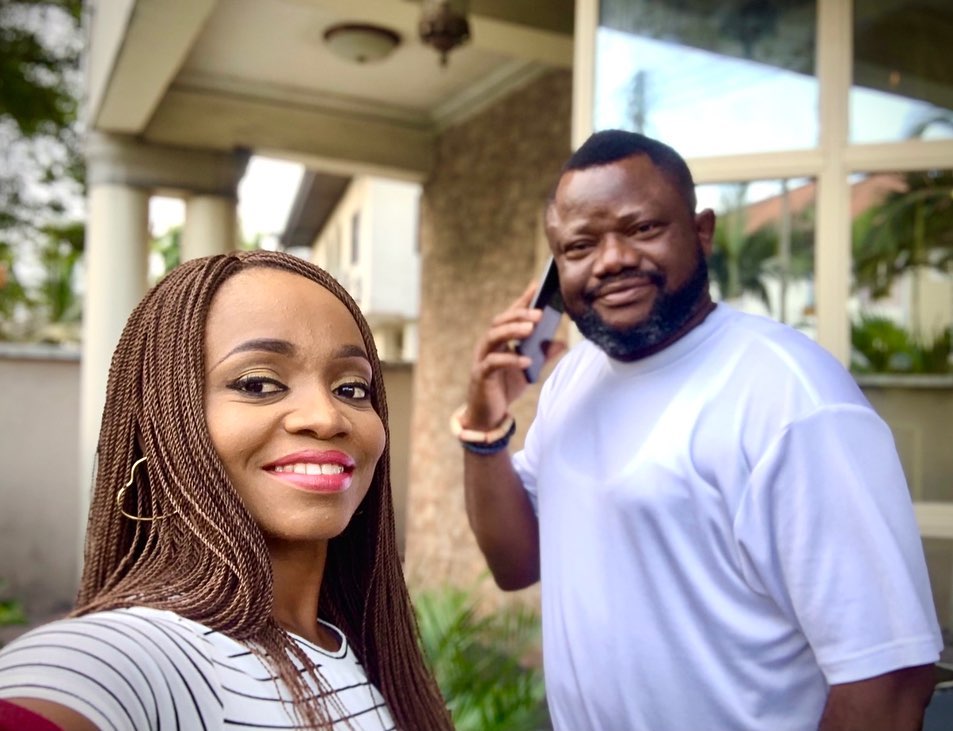 "I'm Now Phd In View" –Silverbird Producer Celebrates Nollywood Filmmaker Who Paid For Her Jamb Form—-No doubt about it scandals sell. Social media are always quick, very observant of negative stories, scandalous and image shattering reports.
No one is interested in celebrating good deeds again unless you blow your horns by yourself. Give journalists, media houses and social media influencers a piece celebrating someone who is worth celebrating, some who has done a remarkable thing and you will surely get a message that will include the invoice of the media house.
But send them a scandalous story, say 'a Nollywood great was caught pants down with an actress'- in seconds, it will go viral. It will top twitter trend, Instagram trend and on all webs and blogsites.
Well, that is a story for another day. Today, there is a Legend; someone who many know as the most consistent film maker in Nigeria but noticeably under-celebrated.
Ambassador Lancelot Oduwa Imasuen, has affected many lives positively but won't blow his horns. Many Nollywood 'A list' actors who he brought to Lagos, had at one time or the other spent years under his roof while hustling to get noticed but, many could not openly praise him.
Lancelot, who in few weeks will be celebrating his 50th birthday withe series of philanthropic gestures and giveaways all across Nigeria is one man that deserves all the accolades.
Well, not all won't remember their beginning. Among those who went back the memory lane to appreciate the life-changing moments with this Benin import is delectable entertainer and Actress, Adaku Nwachineme.
Presently with Channels TV, Port Harcourt,
Adaku Nwachineme, with Instagram handle @adakunwachineme reveals her moments in time with legendary filmmaker @lancelotimasuen…
She said; Movie making will always be my first love.
Years back when I first joined Nollywood industry, I was pretty young, but I was lucky. Producers began to notice me first few months and I only get to work with the best crew and big stars even though it was minor supporting roles but they were always significant to the film.
Andy Ameche, Reginald Ebere, T'Chidi, Andy Chukwu, were some of the biggest directors at the time that directed me working for OJZ production, P.Collins Production among others.
One of those occasions I get to meet @lancelotimasuen on set, he was like oh yea! No doubt you are super talented but you are pretty young, you need to go back to school. Am like oh, no doubt am still going, even my father will kill me if I don't .. well he was like let me make it easier here is money go buy jamb form and start next year am like they are not selling jamb form he was like what are they selling? Polyjamb, he was like Oya buy that one, buy that one. am like Kai I can't go to a poly he was like you need to, you can still buy jamb form the next year and go to a university.. and when you finish with a good grade come back I make you a #Star well 2 years later I was doing IT in ph and forgot all about the industry.
Years later and with a PHD in view I can't help but remember @lancelotimasuen act of kindness done with the Purest of intentions.
As we look forward to celebrating your 50th, I can't help but reminisce on your person, and how far your work has blessed our generation, and most especially the work that you do outside of the industry raising the next generation of thought leaders. Thank you for your service, you are loved and appreciated.
Well here's to #gbegethemovie #gbege is coming.. we are looking forward to it ..
In my curiosity, I decided to put a call across to her and she gave more exposé on why she won't stop talking about Ambassador Imasuen's momunumental kindness to her.
Actress Adaku Nwachineme during our phone call said; "Leaving Nollywood at the time was one of the defining moment of my life because, after a few year that I left and I started working I lost my dad and my mum. So I didn't have any source of income. Assuming that I didn't leave at the moment, I might not be able to go to school again and I don't know what my life could have become."
She said; "It was during my Industrial Attachment at the company where I was working that they decided to retain me and from there I could pay for my school fees and do other things. I was able to raise myself from the little I was being paid as I was retained and the rest has now become a story."
"What I'm trying to say here is that one act of kindness has actually taken me to where I am today and I owned all that to him. I'm just grateful because its one story that I will not never stop talking about. I've said it before and I will continue to say it that lancelot is one of the most underrated and under-celebrated Filmmaker, Director and Producer in this part of the country and in this part of the world."
"The numbers of people that he has helped, those who is relied on him in the Nollywood to get to where they are today are to numerous to count however, it is sad that most of them when they got to where they are today they forgot where they were coming from and this makes it so sad, but I don't want to be counted as one of those people because even if I become the president of Nigeria I will still remember him and his name will always be in the story of my life."
"There's no how I can write my story without mentioning his name. He will always be a part of my success story." Adaku said.
DARE ADEBOYE: Read What Pastor Adeboye Begs God For After Son's Death
DARE ADEBOYE: Read What Pastor Adeboye Begs God For After Son's Death—-The Genius Media Nigeria reports that the General Overseer of the Redeemed Christian Church of God (RCCG), Pastor Enoch Adeboye has begged God for 4 things after his son's death.
The RCCG G.O, on Thursday, May 6, made his first public appearance after the death of his 42-year-old son, Pastor Dare Adeboye.
This online news platform had reported earlier that Pastor Dare Adeboye, third son of Pastor Adeboye is died in his sleep at his home in Eket, Akwa Ibom State, southern Nigeria on Wednesday night, May 5.
Reacting to the sad incidence in an official statement on Thursday via its verified Twitter handle, the church on behalf of Adeboye said though it was shaken by the sudden death of the young cleric, its anchor remained Jesus Christ.
Hours after the news of the death broke, Pastor Adeboye featured on Thursday at the Holy Communion Service of the May Edition of the church's Holy Ghost Service.
While preaching on Thursday night, Pastor Adeboye stressed on the importance of the bread and wine of the Holy Communion, Adeboye, who kept mute on the passing of his son, was visibly heartbroken and troubled.
During the ministration, Pastor Adeboye prayed to God to give him "overflowing joy, peace, health and abundance."
A tweeted by RCCG quoted Pastor Adeboye to have prayed thus; "Father, please give me overflowing joy, peace, health and abundance in the Name of Jesus."
Father, please give me overflowing joy, peace, health and abundance in the Name of Jesus.

– Pastor Adeboye

May 2021 Holy Communion Service#GodBlessYou5 #OverflowingBlessings

— RCCG (@rccghq) May 6, 2021
EXPOSED!!! How BBNaija Mercy Eke Snatched Footballer Samuel Aaron From His Wife
EXPOSED!!! How BBNaija Mercy Eke Snatched Footballer Samuel Aaron From His Wife—According to a report by anonymous Instagram blogger, Gist Lovers, footballer Samuel Aaron and his wife reportedly went their separate ways due on infidelity ground with BBNaija alumnus, Mercy Eke.
The Genius Media Nigeria gathered that Mercy Eke had a one night stand for money with Samuel Aaron, but decided to continued sleeping with him because of the money she gets from him. His wife caught them in the act and decided to leave the marriage.
The anonymous Instagram blogger made this known via her page:
Gist lovers wrote:
"Hello tueh tueh,I bring to you that mysterious girl all blogs are talking about, Footballer Samuel Aaron and wife splits due on infidelity ground, The wife chi Aaron caught him cheating with Aunty Mercy Eke.
The relationship between the footballer and Aunty Mercy was suppose to be a one night stand palava but aunty mercy wan die there as they are not keeping the relationship on a low anymore, them flaunt am so tey the wife got to know.
aunty Mercy is also doing one popular man in Nollywood, the man is believed to be bisexual and he will be celebrating his 60th birthday soon, she was pimped to the man as well, guess who the man is
Hint:Man is so loved and vibes so well.
It's a early momo two in one breakfast. I come in peace, igi ewedu oni wo luwa oo"
See photos of Davido's alleged new lover, Mya Yafai
BREAKING: 8 Killed As Hoodlums Attack Police Headquarters In Imo State
BREAKING: 8 Killed As Hoodlums Attack Police Headquarters In Imo State—According to reports, Security operatives have killed eight hoodlums who attacked the Orlu Divisional Police Headquarters in Imo State on Thursday night.
The Genius Media Nigeria gathered that yet to be identified hoodlums invaded the police headquarters on Thursday night but were repelled by joint security operatives.
Source revealed that gun battle between the security operatives and the hoodlums lasted for about three hours.
The source also revealed that about six vehicles were recovered from the hoodlums during the attack.
Details of the report are still sketchy as the state's Police Public Relations Officer, SP Ikeokwu Godson Orlando was unable to take his calls or respond to text messages forwarded to him.
More to follow…