BREAKING: Nigerian Army Publishes Names Of 361 Successful Candidates For Short Services [FULL LIST]
BREAKING: Nigerian Army Publishes Names Of 361 Successful Candidates For Short Services [FULL LIST]—-The Nigerian Army on Friday released the list of successful candidates for the Nigerian Army Short Service Combatant Course 47/2021.
The Genius Media Nigeria reports that this was made known in a statement published on copied Nigerian Army's official website. The successful candidates are to report at NDA (Old Site) with the following:
a. Original credentials and SSC 47 online application print out that bears their
passport photograph.
b. Four copies of 5 x 7 coloured photograph in suit and in full standing position
without cap/hat.
BREAKING: Nigerian Army Publishes Names Of 361 Successful Candidates For Short Services [FULL LIST]
c. Two pairs of white (unmarked) round neck vests and navy blue shorts (without
stripes).
d. Two pairs of black trousers.
e. Two pairs of pure white canvas trainers (rubber type NOT acceptable).
f. Two white bed sheets and pillow cases.
g. One blanket (grey or army green colour).
h. A set of cutlery.
i. Two pairs of national dress or suit and casual wears.
j. Serving military personnel are to come along with release letters and passes
from their commanders/commanding officers.
2. Successful candidates who fail to report by 6pm on Wednesday 7 April 2021 will forfeit
their positions and be replaced by another candidate on the Reserve List.
SUCCESSFUL CANDIDATES FOR SHORT SERVICE COMBATANT COURSE 47/2021 CADET
TRAINING
North Central
BREAKING: Nigerian Army Publishes Names Of 361 Successful Candidates For Short Services [FULL LIST]
Ser Chest No Application No Surname Firstname Othernames Sex Rmks
(a) (b) (c) (d) (e) (f) (g) (h)
KG05 SSC/47/2021/6370 Abdulazeez Abbas Boyi M
KG26 SSC/47/2021/2293 Abdullahi Salihu M
NS10 SSC/47/2021/1373 Abdulrasheed Abdulmajid M
KG27 SSC/47/2021/7117 Adams Mustapha Ajodo M
KW22 SSC/47/2021/301 Adebisi Ademola Abdulganiy M
BN739 SSC/47/2021/7845 Aga Ngutor Michael M
BN17 SSC/47/2021/7231 Agaba Oloche Edwin M
KW09 SSC/47/2021/4006 Ajiboye Kehinde Adedolapo M
BN12 SSC/47/2021/8421 Akogwu Benson Attah M
FCT446 SSC/47/2021/4179 Akuh Angela Ojochide F
KW14 SSC/47/2021/7987 Alao Fisayo Samson M
NS09 SSC/47/2021/771 Aliyu Saadiya F
KG29 SSC/47/2021/306 Attah Fredrick Ugbedeojo M
NG15 SSC/47/2021/873 Babakolo Kasim Suleiman M
FCT06 SSC/47/2021/4527 Bulus Emmanuel Zaki M
PL08 SSC/47/2021/1653 Chai Mann Mang M
PL26 SSC/47/2021/3603 Danjuma Manasseh M
PL048 SSC/47/2021/1779 Domfa Selfa Simon M
FCT11 SSC/47/2021/10701 Hayatu Abubakar Muhammad M
FCT15 SSC/47/2021/8388 Hussaini Takwa Moses M
NG14 SSC/47/2021/2498 Ibrahim Abubakar Umar M
NG10 SSC/47/2021/5879 Ibrahim Maryam Magayaki F
BN24 SSC/47/2021/6492 Ichoja Augustine Oche M
PL03 SSC/47/2021/603 Joseph Philip Nane M
KW15 SSC/47/2021/8547 Kamaldeen Abdulbaqee Babatunde M
NS257 SSC/47/2021/9749 Katto Jacob Caleb M
BN30 SSC/47/2021/7961 Kpum Whitney Iwanger F
NS22 SSC/47/2021/759 Labaran Abdulrahman Mahmoud M
PL430 SSC/47/2021/8379 Makama Jelje Musa M
NG24 SSC/47/2021/289 Mayaki Ahmed M
NG726 SSC/47/2021/2118 Mohammed Abdulgafar M
NG21 SSC/47/2021/2908 Muhammad Umar M
NG13 SSC/47/2021/602 Muhammad Ibrahim Abdullahi M
PL13 SSC/47/2021/7166 Nuhu Richard Gyang M
KW13 SSC/47/2021/4223 Olawuyi Odunola Itunuoluwa F
3
KG15 SSC/47/2021/9876 Oni Abiola Motunrayo F
BN07 SSC/47/2021/10356 Orsaa Lunen M
BN43 SSC/47/2021/3668 Otache Anthony Ngbede M
KW19 SSC/47/2021/642 Salawu Muhammad Oluwasegun M
KG21 SSC/47/2021/6629 Salifu Joy Ojonuwn F
FCT22 SSC/47/2021/1925 Salisu Abdulkadir M
BN44 SSC/47/2021/7355 Shikyaa Tardoo Matthew M
BN18 SSC/47/2021/1300 Simon Hannah Omojo F
KG19 SSC/47/2021/10698 Usman Sunday M
NS28 SSC/47/2021/5952 Usman Blessing F
BN23 SSC/47/2021/10795 Utaver Christopher Mzehemen M
NS12 SSC/47/2021/10244 Yahaya Isa Ari M
FCT17 SSC/47/2021/2382 Yakubu Lazarus M
NS02 SSC/47/2021/10077 Yohanna Sunday Funkpane M
PL07 SSC/47/2021/7364 Zhakom Donald Emmanuel M
KW24 SSC/47/2021/4166 Zubair Sofiyullahi Bolakale M
KG10 SSC/47/2021/1414 Alpha Isaiah M
BN857 SSC/47/2021/7929 Ameh Lucy Onyeche F
KW23 SSC/47/2021/2094 Gbadeyanka Kamil Gbadewole M
PL21 SSC/47/2021/2968 Hirse Andi Emmanuel M
NS03 SSC/47/2021/11066 John Peter Ujison M
NG06 SSC/47/2021/632 Mustapha Kabiru M
FCT465 SSC/47/2021/27 Okpare Micheal M
Reserves
KG09 SSC/47/2021/116 Ahmed Abdulsamir Yusuf M Reserve
NS01 SSC/47/2021/312 Augustine Abel Akpomushi M Reserve
KW21 SSC/47/2021/5085 Babatunde Quadri Kolawole M Reserve
KW18 SSC/47/2021/275 Ganiyu Taofik Ishola M Reserve
BN14 SSC/47/2021/10746 Gbinde George Gemanen M Reserve
FCT258 SSC/47/2021/307 Jibrin Masud M Reserve
NS23 SSC/47/2021/2334 Kirnyam Kwaghzer Patrick M Reserve
BN303 SSC/47/2021/6992 Ekele Mickey Blessing F Reserve
PL01 SSC/47/2021/8300 Miller Johnson Yerima M Reserve
NG04 SSC/47/2021/7832 Muhammad Isah Baba M Reserve
KG612 SSC/47/2021/39 Obaje Abubakar Sadiq M Reserve
NG390 SSC/47/2021/6012 Rabiu Mohammed Sarkin Daji M Reserve
PL17 SSC/47/2021/7470 Ramma Rekwi M Reserve
4
North East
Ser Chest No Application No Surname Firstname Othernames Sex Rmks
(a) (b) (c) (d) (e) (f) (g) (h)
GB19 SSC/47/2021/2697 Abdulaziz Saad Abdullahi M
BO20 SSC/47/2021/10544 Abdullahi Modu Lamba M
GB11 SSC/47/2021/8929 Abdullahi Kamaluddeen M
AD06 SSC/47/2021/6502 Ageh Pwaluwi Emmanuella F
TR02 SSC/47/2021/2790 Aliyu Adamu Tanimu M
YB17 SSC/47/2021/2171 Alkali Adamu Abdullahi M
GB07 SSC/47/2021/7375 Aminu Elsie Ngai F
GB16 SSC/47/2021/4481 Bashir Mubarak Mohammed M
GB03 SSC/47/2021/8170 Bello Nasiru M
AD03 SSC/47/2021/750 Bislam Briston Tagatikaisaipwa M
BA10 SSC/47/2021/354 Bitrus Ezekiel M
AD18 SSC/47/2021/9223 Bongo Bamaiyi Ladini M
BO05 SSC/47/2021/1580 Buba Abdulhamid Ndula M
YB26 SSC/47/2021/3964 Ibrahim Mohammed Ibbi M
AD281 SSC/47/2021/5868 Isaac Kenedy M
TR026 SSC/47/2021/8289 John Elizabeth F
BA088 SSC/47/2021/1003 Markus Pollum Rejoice F
YB06 SSC/47/2021/9056 Mohammed Ibrahim Abba M
BO19 SSC/47/2021/2078 Muhammad Ibrahim M
GB02 SSC/47/2021/7655 Muhammad Abubakar Umar M
BA21 SSC/47/2021/3776 Musa Ahmad Isah M
TR06 SSC/47/2021/6733 Musa Haruna M
TR486 SSC/47/2021/1246 Nakwama Nura Bashir M
BA26 SSC/47/2021/5747 Othman Ibrahim Ibrahim M
AD04 SSC/47/2021/1675 Parry-Yemi Peace Kefas F
BO07 SSC/47/2021/1105 Paul Maria Chagwa F
TR20 SSC/47/2021/3249 Peter John M
BA15 SSC/47/2021/2715 Rabo Samuel Amanda M
YB02 SSC/47/2021/4234 Saleh Al-Amin Usman M
BO02 SSC/47/2021/4113 Sani Nasiru Nasiru M
TR16 SSC/47/2021/412 Sunday Cybel Mago F
AD30 SSC/47/2021/124 Tafida Muhammed Bamanga M
YB772 SSC/47/2021/4886 Tanko Yusuf Garba M
AD21 SSC/47/2021/3672 Tumba Basil Bartholomew M
YB452 SSC/47/2021/1756 Umar Abubakar M
YB30 SSC/47/2021/8357 Umar Musa Bello M
BO10 SSC/47/2021/1073 Usman Ibrahim Dzarma M
5
AD394 SSC/47/2021/10185 Vandima Geoffrey John M
GB40 SSC/47/2021/10380 Yahaya Bello M
BO172 SSC/47/2021/3493 Yakubu Tabitha F
TR25 SSC/47/2021/1701 Yakubu Deborah F
BA05 SSC/47/2021/5310 Yohanna Mark Mayel M
BA323 SSC/47/2021/8406 Zakari Ibrahim Danbale M
GB30 SSC/47/2021/9364 Abubakar Musa Adam M
BA868 SSC/47/2021/10331 Adamu Yusuf Umar M
AD29 SSC/47/2021/21 Bala Dogara M
YB13 SSC/47/2021/6770 Dauda Hashimu M
TR30 SSC/47/2021/792 Simon Marksmith M
BO29 SSC/47/2021/3384 Usman Buhari M
Reserves
AD02 SSC/47/2021/8779 Bitrus Samson M Reserve
GB17 SSC/47/2021/9583 Buba Ibrahim M Reserve
BA18 SSC/47/2021/2939 Bulus Sunday M Reserve
AD696 SSC/47/2021/7135 Ibrahim Davaza Luka M Reserve
BO08 SSC/47/2021/6209 Ibrahim Daniel M Reserve
BA198 SSC/47/2021/7801 Inuwa Ibrahim M Reserve
GB29 SSC/47/2021/10799 Mamman Yusuf M Reserve
YB289 SSC/47/2021/977 Meremi Babagana Sullum M Reserve
TR28 SSC/47/2021/3122 Nuhu David Tenyang M Reserve
YB783 SSC/47/2021/5134 Saad Muhammad Yusuf M Reserve
BO366 SSC/47/2021/9266 Umar Abubakar Sadiq M Reserve
TR27 SSC/47/2021/3206 Umar Aliyu Aliyu M Reserve
North West
Ser Chest No Application No Surname Firstname Othernames Sex Rmks
(a) (b) (c) (d) (e) (f) (g) (h)
KT27 SSC/47/2021/9241 Abdullahi Umar M
SK14 SSC/47/2021/2355 Abdullahi Sani M
KD28 SSC/47/2021/5582 Abubakar Ibrahim M
KN26 SSC/47/2021/10592 Albasu Abdulsalam Sabo M
KB336 SSC/47/2021/8842 Al-Hassan Abdusshakur M
JG17 SSC/47/2021/5657 Ali Bilya M
KB27 SSC/47/2021/203 Aliu Aliu M
JG01 SSC/47/2021/1114 Aliyu Auwalu Idris M
KD315 SSC/47/2021/4487 Aliyu Aliyu Suleiman M
ZM23 SSC/47/2021/1900 Aminu Aliyu Marafa M
KT21 SSC/47/2021/10746 Danladi Bello Abba M
6
SK05 SSC/47/2021/5026 Danladi Suleiman M
JG26 SSC/47/2021/917 Dauda Aminu M
KD18 SSC/47/2021/2254 Doni Stephen Daniel M
KT23 SSC/47/2021/4917 Garba Kamal Rimi M
KD05 SSC/47/2021/3689 Haruna Aliyu M
JG09 SSC/47/2021/1261 Ibrahim Suraj A M
KN14 SSC/47/2021/9133 Ibrahim Usman Umar M
SK09 SSC/47/2021/3055 Ibrahim Hafiz M
JG28 SSC/47/2021/2939 Isah Aliu Abubakar M
KN29 SSC/47/2021/9018 Isah Shuaibu Adamu M
KB17 SSC/47/2021/4346 Isah Balkisu F
KB12 SSC/47/2021/10280 Ishaku Yakubu Chonoko M
KD13 SSC/47/2021/2665 Jaafar Abdullahi Muhammad M
KD187 SSC/47/2021/8708 Jallo Abubakar Hassan M
KN20 SSC/47/2021/1795 Jibril Muhammad Salisu M
KT12 SSC/47/2021/3658 Jibril Abdulrazak Haruna M
KN23 SSC/47/2021/4355 Khamis Khalid M
JG23 SSC/47/2021/2276 Muhammad Umar Haruna M
KT645 SSC/47/2021/2142 Muhammad Rabiu M
ZM314 SSC/47/2021/8372 Muhammad Idris M
KB03 SSC/47/2021/13 Mustapha Muhammad M
SK790 SSC/47/2021/10 Mustapha Bashar Yabo M
KB641 SSC/47/2021/7366 Najeem Iliyasu M
KN400 SSC/47/2021/1645 Nuhu Abubakar Adam M
KD02 SSC/47/2021/1042 Patrick Tene Nizah M
KT710 SSC/47/2021/10188 Salisu Usman M
KB13 SSC/47/2021/1811 Sani Alkasim Chonoko M
ZM01 SSC/47/2021/9972 Sani Amiru M
KD286 SSC/47/2021/11029 Sauki Kirkula M
SK28 SSC/47/2021/7962 Shehu Abdulrahman Dikko M
JG08 SSC/47/2021/2423 Shuaibu Yunusa M
SK355 SSC/47/2021/3551 Umar Isa M
KN779 SSC/47/2021/6809 Usman Abba Abdullahi M
KT09 SSC/47/2021/1074 Usman Abdulmajid M
KD01 SSC/47/2021/4814 Waziri Abel Simon M
KN17 SSC/47/2021/1925 Yahaya Yusuf M
KD444 SSC/47/2021/1 Yahya Muhammad Lere M
KN10 SSC/47/2021/8667 Yunusa Shamsuddeen Muhammad M
KB02 SSC/47/2021/6944 Gode Musa M
KD11 SSC/47/2021/137 Ibrahim Kambai Adamu M
KD26 SSC/47/2021/10345 Kambai Koni Elizabeth F
KN24 SSC/47/2021/1401 Salisu Zaharadeen Idris M
7
JG10 SSC/47/2021/1652 Suleiman Mudassir Ado M
KT25 SSC/47/2021/3825 Suleiman Hassan M
Reserves
KT15 SSC/47/2021/661 Abbas Usamatu M Reserve
KB19 SSC/47/2021/8248 Adamu Yakubu M Reserve
KN30 SSC/47/2021/11094 Ashraf Taha Sani M Reserve
KT29 SSC/47/2021/5462 Garba Nafiu M Reserve
JG16 SSC/47/2021/3785 Hafizu Umar M Reserve
KD24 SSC/47/2021/5851 Joseph Abraham Akaan M Reserve
JG30 SSC/47/2021/8794 Sani Kabir Mohammed M Reserve
KN06 SSC/47/2021/616 Tanimu Abdullahi Adamu M Reserve
KB11 SSC/47/2021/1509 Wade Jibril Chonoko M Reserve
South East
Ser Chest No Application No Surname Firstname Othernames Sex Rmks
(a) (b) (c) (d) (e) (f) (g) (h)
EB101 SSC/47/2021/185 Abaa Ifeanyichukwu Frank M
AB10 SSC/47/2021/9031 Agbayi Mercy Amarachi F
EN14 SSC/47/2021/7972 Akah Chinedu Kenneth M
IM23 SSC/47/2021/8980 Alaoma Mirian Oluchukwu F
AN02 SSC/47/2021/5130 Anikpeh Chukwunonso Alfred M
EN24 SSC/47/2021/5759 Anikputa Mary-Juliet Ukamaka F
EB253 SSC/47/2021/3915 Chukwu Charles Chidi M
IM22 SSC/47/2021/7819 Chukwuma Christian Ikechukwu M
AB27 SSC/47/2021/233 Ekeagu Blessed Chigozie M
AN30 SSC/47/2021/5390 Ekpeogu Michael Chinweike M
IM28 SSC/47/2021/3092 Emeka Victor Chinedu M
EN23 SSC/47/2021/2363 Eze Kenneth Chukwuemeka M
EN07 SSC/47/2021/3101 Ezeagu Francis Chukwuma M
IM04 SSC/47/2021/5783 Ibe Justin Chibuikem M
EN16 SSC/47/2021/1576 James Harrison Okwudili M
IM13 SSC/47/2021/89 Madu Lucky Okwudili M
EB28 SSC/47/2021/4779 Mba Amos Chinonso M
IM477 SSC/47/2021/6122 Nwabiakarije Chiamaka Chidera F
AN12 SSC/47/2021/674 Nwosu Prince Udoka M
AB23 SSC/47/2021/8813 Nzeako Chika Micheal M
IM02 SSC/47/2021/10058 Obioha Queeneth Oluchi F
AN29 SSC/47/2021/9518 Okafor Gloria Chidimma F
AB12 SSC/47/2021/4007 Okechukwu Nkechinyere Joy F
AN18 SSC/47/2021/4267 Okechukwu Kenechukwu Chukwuebuka M
8
AN03 SSC/47/2021/8812 Okeke Jeanie Kenechukwu F
EN04 SSC/47/2021/6903 Okelue Emeka Kingsley M
EB10 SSC/47/2021/7074 Oko Peter Ude M
IM03 SSC/47/2021/1410 Okoro Oluchi Juliana F
AN078 SSC/47/2021/1459 Okpala Iruka Janefrances F
AB06 SSC/47/2021/10941 Omeonu Ifeanyi Vincent M
AB15 SSC/47/2021/4399 Onuoha Chinedu M
EB09 SSC/47/2021/5336 Onwe Chukwuemeka Harrison M
EB04 SSC/47/2021/2660 Orji Ifenna Princewill M
EB342 SSC/47/2021/1554 Ubani Chibuike Alison M
EN20 SSC/47/2021/3399 Ugwuoke Kingsley Dominic M
AB04 SSC/47/2021/2697 Ukachukwu Ochiegbu Chinjike M
AB26 SSC/47/2021/9497 Chimezie Chima Polycarp M
EB26 SSC/47/2021/1344 Hossana Patrick M
AN07 SSC/47/2021/6516 Ifejika Ifechukwu Veronica F
IM27 SSC/47/2021/4968 Ogbonna Michael Nnaemeka M
EN03 SSC/47/2021/2118 Ugwuanyi Kingsley Ekene M
EB03 SSC/47/2021/5620 Nwovu Williams Chinedu M
Reserves
AB17 SSC/47/2021/1779 Iheanyi Chinweotito Emmanuel F Reserve
EN10 SSC/47/2021/6378 Nwankwor Emmanuel Ebuka M Reserve
IM19 SSC/47/2021/10707 Nwosu Harrison Uzonna M Reserve
IM08 SSC/47/2021/3384 Okeh Peace Obianuju F Reserve
EB19 SSC/47/2021/4088 Onu Desmond Asadu M Reserve
AB03 SSC/47/2021/39 Onuoha Charles Nnamdi M Reserve
EN25 SSC/47/2021/10283 Udeh Irene Obiageli F Reserve
South South
Ser Chest No Application No Surname Firstname Othernames Sex Rmks
(a) (b) (c) (d) (e) (f) (g) (h)
RV28 SSC/47/2021/1712 Abere Tamunoibuomie F
ED21 SSC/47/2021/10650 Abubakar Zakariyya Obozokhai M
BY23 SSC/47/2021/1110 Agara Elijah Dunbo M
AK30 SSC/47/2021/8716 Akpan Prescilia Januarius F
AK01 SSC/47/2021/2806 Anietie Emmanuel Tom M
CR40 SSC/47/2021/10839 Atabashie Andrew M
ED02 SSC/47/2021/4527 Atata Monday Emmanuel M
DT16 SSC/47/2021/649 Awhotu Ogheneruno Praise F
CR14 SSC/47/2021/162 Ayeshung Simon Odey M
BY14 SSC/47/2021/1466 Babudoh Meshack Finine M
9
ED27 SSC/47/2021/8545 Bello Salome Lamosi F
ED08 SSC/47/2021/9273 David Henry M
AK657 SSC/47/2021/661 Edo Tieneobong Iwatt M
DT11 SSC/47/2021/2653 Egbon Chukwuka Richard M
CR10 SSC/47/2021/7844 Ekinya Eno Elogbo F
CR22 SSC/47/2021/10233 Eku Victor Emang M
BY01 SSC/47/2021/8299 Emeli Emizibo M
AK08 SSC/47/2021/3733 Essien Idongesit Nelson F
RV06 SSC/47/2021/7135 George Victoria Walter F
RV21 SSC/47/2021/6005 Goddey Princewill M
DT08 SSC/47/2021/1730 Godwin Blessing F
DT02 SSC/47/2021/7573 Ikediashi Edwina Adaoma F
ED11 SSC/47/2021/11149 Imafidon Courage Noguese F
BY17 SSC/47/2021/6158 Ipalimote Kelvin Diepreye M
RV20 SSC/47/2021/5197 John Eteka Akeuphel M
AK11 SSC/47/2021/3828 Mfon Samuel Akpan M
BY12 SSC/47/2021/10163 Mordi Priye Francess F
RV25 SSC/47/2021/10455 Ogbegbe Austine Eleazar M
RV09 SSC/47/2021/8322 Ogbo-Chukwu Chimzam Abiye M
ED250 SSC/47/2021/8917 Ogidan Hope Abidemi F
DT20 SSC/47/2021/5417 Ohwerhi Joseph M
ED41 SSC/47/2021/5114 Okogun James Osemenkhian M
DT03 SSC/47/2021/9300 Okoh Rosemary F
AK568 SSC/47/2021/10260 Okon Emmanuel Effiong M
CR15 SSC/47/2021/2025 Onah Queen-Next Ochuole F
BY28 SSC/47/2021/8258 Opuene Tekena M
DT07 SSC/47/2021/779 Orovwemu Voke M
DT30 SSC/47/2021/8546 Oshanugor Emmanuel Chinedu M
BY21 SSC/47/2021/9986 Prince Peremobowei M
BY19 SSC/47/2021/8949 Thompson Alice Tuepiri F
AK29 SSC/47/2021/6127 Ukpong Ubong Udoh M
CR05 SSC/47/2021/5043 Unoh Justin Eba M
CR24 SSC/47/2021/5755 Usang Obaseoyi Effiom M
AK09 SSC/47/2021/5862 David Ubong Akpan M
BY15 SSC/47/2021/8005 Eradiri Ineikpotimi M
ED06 SSC/47/2021/5495 Obomasewmianukhi Dorina Anastsia F
CR693 SSC/47/2021/10339 Onigah Joseph Friday M
DT10 SSC/47/2021/1405 Ugbewi Anthony Chisom M
Reserves
AK07 SSC/47/2021/9052 Daniel Emeh Temple F Reserve
CR09 SSC/47/2021/5804 Eneji Pascal Emuru M Reserve
ED30 SSC/47/2021/10704 Isowo Harriet Oniruni F Reserve
10
DT04 SSC/47/2021/2591 Iwezuife Benjamin Joseph M Reserve
BY10 SSC/47/2021/977 Oputa Boloumbelemoere Rachel F Reserve
BY06 SSC/47/2021/902 Sunday Ebisine Goodness M Reserve
DT09 SSC/47/2021/616 Tete Akpojaro M Reserve
ED40 SSC/47/2021/8976 Thomas Augustine Eraga M Reserve
AK26 SSC/47/2021/9006 Udofia Iniobong Douglas M Reserve
CR18 SSC/47/2021/6903 Uket Patience F Reserve
South West
Ser Chest No Application No Surname Firstname Othernames Sex Rmks
(a) (b) (c) (d) (e) (f) (g) (h)
OY03 SSC/47/2021/1371 Abdulahi Nasiru Amoo M
OG14 SSC/47/2021/2682 Adedimeji Adeniran Alexander M
OS23 SSC/47/2021/927 Adenigba Martha Oreoluwa F
OG17 SSC/47/2021/7540 Adesanya Ayobami David M
OY02 SSC/47/2021/1380 Adesokan Taiwo Adedeji M
OY147 SSC/47/2021/6315 Adesokan Raymond Babatunde M
OD12 SSC/47/2021/8310 Adibo Matthew Adebowale M
OS24 SSC/47/2021/4953 Adigun Solomon Temitope M
EK23 SSC/47/2021/3958 Ajayi-Kayode Temitope F
EK29 SSC/47/2021/8057 Ajewole Oluwatosin Daniel M
EK28 SSC/47/2021/5104 Akande Olaoluwa Love M
OD06 SSC/47/2021/10694 Akinleye Rotimi Francis M
OG19 SSC/47/2021/1283 Akiode Kabirat Abosede F
LA11 SSC/47/2021/10159 Amosu Thodeji James M
OG10 SSC/47/2021/274 Anigilaje Musa Opeyemi M
LA12 SSC/47/2021/10362 Awotunde Abiola Rukayat F
OG26 SSC/47/2021/5470 Bello Eniola Halimot F
OY08 SSC/47/2021/946 Bello Oluwatobi Richard M
EK22 SSC/47/2021/84 Bolaji Kayode Joseph M
OG07 SSC/47/2021/8646 Cole Oluremilekun Enitan F
LA24 SSC/47/2021/8230 Dasi Victor Sewanu M
EK07 SSC/47/2021/3148 Fagbamigbe Oluwaseun Monisola F
OD21 SSC/47/2021/5152 Fagbolagun Oluwakemi Esther F
OD831 SSC/47/2021/6379 Isiaka Mufutau Ayomide M
OD07 SSC/47/2021/8959 Jaiyeola Deborah Oluwafunmilola F
OY11 SSC/47/2021/1557 Joseph Isaac Adewale M
OY21 SSC/47/2021/2585 Laoye Oyindamola Yetunde F
LA20 SSC/47/2021/231 Odofin Sodiq Olaniyi M
LA16 SSC/47/2021/7792 Ogundeko Kafayat Adeyinka F
11
OS206 SSC/47/2021/9861 Okunola Adekunle Philip M
OS26 SSC/47/2021/8741 Oladele Emmanuel Olayinka M
OD14 SSC/47/2021/9364 Oladugbagbe Charles Olakunle M
OD10 SSC/47/2021/1708 Olaiya Clintina Olanike F
EK02 SSC/47/2021/5821 Olajide Olawale John M
OS17 SSC/47/2021/63 Olaleye Olugbenga Moses M
OY23 SSC/47/2021/9417 Olayiwola Samuel Oluwagbenga M
LA02 SSC/47/2021/10840 Oluwajuyigbe Segun Ayomide M
EK18 SSC/47/2021/5587 Oluwaleye Precious F
EK21 SSC/47/2021/10088 Oni Oluwafunke Esther F
OS21 SSC/47/2021/692 Oniwinde Seun M
OG27 SSC/47/2021/6117 Shittu Abiodun Dolapo M
OS09 SSC/47/2021/296 Tijjani Abdulmalik Baba M
OY01 SSC/47/2021/8709 Yusuf Jamiu M
OG28 SSC/47/2021/8240 Abiodun Ayodeji Sunny M
OS190 SSC/47/2021/1322 Adesina Joshua Anuoluwapo M
OD03 SSC/47/2021/1421 Dare Aduragbemi Elizabeth F
EK09 SSC/47/2021/766 Jimoh Badmus M
OY04 SSC/47/2021/6123 Oyewo Boluwatife Bukunmi M
Reserves
OY25 SSC/47/2021/360 Ajibade Theophilus Abiola M Reserve
OD24 SSC/47/2021/7794 Akinfala Muyiwa M Reserve
OD08 SSC/47/2021/817 Aluko Oluwatayo Williams M Reserve
OY24 SSC/47/2021/7706 Balogun Shakirudeen Lekan M Reserve
EK08 SSC/47/2021/8965 Fadairo Adeoluwa David M Reserve
OG23 SSC/47/2021/1972 Ogundipe Funmilola Mary F Reserve
OS740 SSC/47/2021/6185 Olatunji Samuel Adebola M Reserve
EK16 SSC/47/2021/9388 Olowomeye Gbenga Samuel M Reserve
OS27 SSC/47/2021/10840 Oyelade Olabode Kolawole M Reserve
OG05 SSC/47/2021/651 Sobiyi Yetunde Tanwa F Reserve
Signed
Major General GAT Ochigbano
Military Secretary (Army)
for Chief of Army Staff
Army Headquarters Department of Military Secretary, Mambilla Barracks Asokoro Abuja
Watch As Sunday Igboho Escaped Another DSS Attack In Osun
Watch As Sunday Igboho Escaped Another DSS Attack In Osun—-The Genius Media Nigeria reports that popular Yoruba activist, Sunday Igboho has successfully escaped another ploy by the DSS to attack him during the Yoruba nation rally that took place in Osun yesterday.
This reliable media gathered His media aide, Koikimedia uploaded a video of a man whom he described as a DSS officer sent to bug and take pictures of Sunday Igboho's vehicle and plate number during the protest.
He explained that the man confessed following an interrogation with him
Read his full statement
One of the DSS Department of State Security that was apprehended at today's Osun State mega Rally name as
Mr Seun Olayinka working with Federal Government under DSS was caught today 15th May 2021
During our interrogation with him he said that he was sent by the Federal Government working on behalf of DSS to target one person Chief Sunday Igboho vehicles.
He confirmed to us that the mission was to bug and take pictures Chief Sunday Igboho's vehicles plate number.
We had to do a quick security check using our own GPS DETECTOR to make sure the vehicles was not bug.
We would give further details after the report from our forensic expert….Says Olayomi Koiki
CLICK THE LINK BELOW TO WATCH VIDEO HERE:
https://www.facebook.com/IKOIKIMEDIA/videos/3990726181018321/
Fayemi, Sanwo-Olu, Amosun And Others Celebrate Shina Peller As Exemplary Leader At 45 [PHOTOS]
Fayemi, Sanwo-Olu, Amosun And Others Celebrate Shina Peller As Exemplary Leader At 45 [PHOTOS]—–Chairman of the Nigeria Governors' Forum (NGF) and Ekiti State governor, Dr. John Kayode Fayemi, Lagos State governor, Babajide Olusola Sanwo-Olu, immediate past Ogun State governor, who is now a serving senator, Senator Ibikunle Amosun and other important personalities both home and outside the country have joined in celebrating Hon. Shina Peller on the occasion of his 45th birthday anniversary.
Fayemi, Sanwo-Olu, Amosun And Others Celebrate Shina Peller As Exemplary Leader At 45 [PHOTOS]
Speaking on Friday at the National Security and Peace Symposium organized by Lead Generation Initiative (LGI) to mark the 45th birthday of the federal legislator, Dr. Fayemi, who was also the Chairman of the occasion, commended Hon. Peller and LGI for choosing to celebrate his birthday with such a purposeful security symposium as part of his own contribution to addresing the menace of insecurity in the country.
Similarly, Dr. Fayemi added that the security and other challenges that the country battles with can be overcome if the causes of the problems are reasonably addressed and dealt with. He listed some of the causes to include poverty, inequality and unemployment.
He said,
"We are all here because we believe in a cause we need to commit ourselves. At the moment, we know our country is going through a lot of challenges. But these challenges are not insurmountable. These are challenges we can overcome.
"Countries that are in more security situation than Nigeria have overcome it. We can achieve this if we are single-minded, if there is sincerity of purpose, if we are committed about transforming Nigeria for the better, and understanding our challenges for what they are.
"If we are honest, purpose driven, dedicated and determined, we will put behind all the triggers of violence in the land; be it insurgency, banditry, kidnapping, armed robbery and so on, as long as we are tough on the causes of the crime. We all know the causes of the crimes in our country. Inequality, poverty and unemployment are major aspects of it."
In his own congratulatory message to the celebrant, Lagos State governor, Babajide Olusola Sanwo-Olu in a congratulatory birthday letter he personally signed, described Hon. Peller as an exemplary politician, a patriotic Nigerian, a selfless member of the House of Representatives and a worthy ambassador of Oyo State. Governor Sanwo-Olu added that he is ever proud of the giant strides he has made in politics and described his contributions to the development of his constituency as unparalleled.
The letter read:
"On behalf of the Government and people of Lagos State, I congratulate you on your 45th birthday.
"The anniversary of your birthday provides an opportunity to celebrate you for being an exemplary politician, a patriotic Nigerian, a selfless member of the House of Representatives and a worthy ambassador of Oyo State.
"Despite the challenges associated with representing diverse people, you have demonstrated uncommon love for your constituents, and the uncanny ability to prioritize their interests.
"I am proud of the giant strides you have made in politics and your unparalleled contributions to the development of Iseyin/Itesiwaju/Kajola/Iwajowa Federal Constituency.
"The Peace and Security Symposium being organized to mark your birthday embodies your love for the continued unity, peace and wellbeing of Nigeria. As you celebrate your 45th birthday, I pray for better strength and wisdom to keep serving your people.
"May your life remain impactful, productive and inspirational."
Senator Ibikunle Amosun, in his own congratulatory letter, maintained that Hon. Peller's life is an eventful one with many positive impacts both in business and politics. He prayed that God grants him long life in good health so that his constituents, Oyo State and Nigeria at large will continue to benefit from his service.
The letter read in part:
"Yours has been an eventful life with many positive impacts, most notably, in business and politics. I wish you a happy birthday, and pray that Almighty God will grant you more years, in good health so that your constituency, Oyo State and the nation at large, will continue to benefit from your service."
Other prominent personalities who were at the National Security and Peace Symposium to celebrate Hon. Peller's 45th birthday included former Governor of Oyo State, Otunba Adebayo Alao-Akala, former Governor of Ogun State Senator Ibikunke Amosun, former ministers; Senator Musiliu Obanikoro, Barrister Adebayo Shittu and wife of the immediate past Governor of Oyo State, Senator Abiola Ajimobi, Mrs. Florence Ajimobi.
Furthermore, the symposium with the theme – National Security and Peace: Role of Government, Citizens and Institutions", which had Professor Isaac Olawale Albert as the keynote lecturer, also witnessed the presence of HRM Oba Saliu Adetunji, Olubadan of Ibadan, HRM Oba Abdul-Rasheed Adewale Akanbi, Oluwo of Iwo Land, HRM Oba Rafiu Mustapha, Onjo of Okeho, representatives of the Alaafin of Oyo and Ooni of Ife as well as other revered royal fathers and traditional chiefs.
Also in attendance were some members of the House of Representatives like Hon. Akin Alabi, Hon. Musiliu Akinremi, Hon. Akeem Adeniyi Adeyemi, Hon. Tolulope Akande-Sadipe, Hon. Femi Bamisile, Hon. Olumide Ojerinde and others.
JUST IN: Nationwide Protest To Remove President Buhari Holds On Democracy Day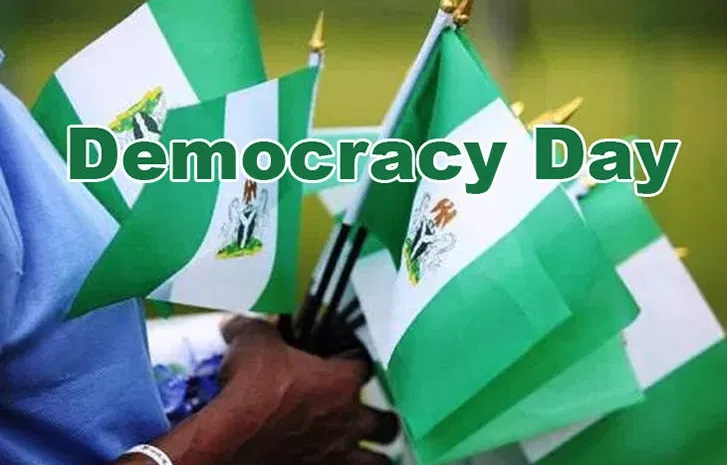 JUST IN: Nationwide Protest To Remove President Buhari Holds On Democracy Day—-Which "democracy day" are they talking about – the real one (29 May) or fake one (12 June)? Whichever, anyone contemplating such a protest is naive and misguided, as naive and misguided as those expecting President
Buhari to restructure Nigeria!
It is an unfortunate characteristic of certain Nigerians to indulge in unreasonable expectations. Even when the solution to their problem is obvious to all reasonable minds, the unreasonable ones disturb our peace with their unreasonableness.
Look, Nigerians, take measures (including acquiring weapons of self-defence and fervent prayer) to avert a religious and inter-tribal war that is loading for 2022.
With that war averted and Nigeria getting another chance to exist as one country, massively support a South-Easterner to succeed President Buhari – on APC platform, of course.
With a South-Easterner as President of Nigeria from 29th May 2023, restructuring will happen naturally. Restructuring is South-Eastern as South-Eastern is restructuring.
What we see is that those calling for exit of President Buhari from office before 29th May 2023 and those unreasonably asking him to restructure Nigeria are mischievous individuals who want to truncate the very high prospect of a South-Easterner succeeding him on APC platform, thereby ending Nigeria violently.
They know that realistic promise of President of Nigeria of South-East extraction on APC platform from 29th May 2023 is now the only guarantee of Nigeria's unity, peace, security, prosperity and true greatness – for the first time in history.
We shall not let them plunge Nigeria into avoidable destructive crisis from which the country will not survive. We must help them to stop that silly pressure on President Buhari to restructure Nigeria or to vacate Aso Rock Presidential Villa prematurely.