South Sudan Forms Unity Government As TB Joshua's Prophecy Comes To Pass
Saturday 22nd February 2020 is set to go down as a historic date in South Sudan as a unity government between once bitter rivals President Salva Kiir Mayardit and opposition leader Riek Machar finally comes to fruition.
"I want to tell the people of South Sudan that all the changes that are taking place right now are to bring peace and not changes that will bring conflict again because we are tired of conflict," Kiir announced as he officially appointed Machar as Vice President, one of five to be appointed to the new government.
For months, the government and former rebels were at an impasse over the number of states in South Sudan as Kiir unilaterally increased the number to 32 during the recent civil war, which resulted in the deaths of over 400,000 people.
After failing to meet the two previous deadlines to form a unity government, fears of a resurgence in violence were palpable.
However, Kiir chose to compromise "for the sake of peace" and reverted to the original ten states, paving the way for the unity government's formation.
This historic settlement, a huge step towards lasting peace in the world's youngest nation, was 'prophesied' during the recent visit to Juba by Nigerian Pastor TB Joshua on November 12th 2019.
"I am here to prophesy to the nation. If I am a prophet, this will not go without fulfilment," Joshua boldly declared in a national address at the Presidential Palace, broadcast live on South Sudan's state television.
"This country is going to enter a new beginning – whether you like it or not, whether I like it or not," he continued, insisting that "your agreement does not matter to what God is about to do" and "you cannot stand in the way of the Lord".
With Kiir and his entire cabinet in attendance during the address, the cleric stressed that "peace has no price" and counselled leaders to overcome all divisions and differences.
"Time has come for us to put our differences behind us. Our leaders, we should overcome our divisions and agree to work together – for the good of this country," he declared, before leading the leaders in prayer for peace.
Social media in South Sudan was awash with news of Joshua's visit, with many citizens insisting his prayers and prophetic message were pivotal in the peace process.
"It is the high time South Sudanese should embrace Prophet TB Joshua for his prophecy has come to pass about our nation," wrote Gum Thany on Facebook.
"Imagine our leaders made historical concessions for the first time just for the sake of peace and this is being coupled with showers of rain in Juba in the middle of dry season," he added.
Numerous attempts in the past to bring peace between Kiir and Machar proved unsuccessful – including the time the duo were received by Pope Francis in Vatican City where he famously kissed the warring leaders feet.
South Sudanese citizens are hopeful that the new unity government will usher in an era of peace, development and stability.
BREAKING: Adeboye Family Releases Funeral Program For Pastor Dare Adeboye
BREAKING: Adeboye Family Releases Funeral Program For Pastor Dare Adeboye—The Genius Media Nigeria reports that the family of the General Overseer of the Redeemed Christian Church of God (RCCG), Pastor Enoch Adejare Adeboye, has released a program for Pastor Dare Adeboye, who went to be with the Lord on Wednesday in Eket, Akwa Ibom State where he was based.
The Late Pastor Dare Adeboye was the Assistant Pastor in charge of Region (Youth) 35 and passed on at age 42.
A statement on behalf of the Adeboye family, by Pastor Leke Adeboye, said that there will be a Special Service in City of David Youth Church Eket, Akwa Ibom State where Pastor Dare was pastor on Sunday, May 9, 2021.
There will be Thanksgiving Songs and Tributes on Monday, May 10, 2021 from 4:00 pm – 6:00 pm (at RCCG House of Favour, Redemption Camp, Lagos-Ibadan Expressway.
A Farewell Service will hold at 10:00 am on Tuesday, May 11, 2021 at the Youth Centre, RCCG Redemption Camp, Ogun State, Nigeria.
In the statement, Pastor Leke Adeboye, on behalf of the family, also expressed appreciation to all who have stood by the family.
"With our hearts full of gratitude, we appreciate you, for standing by our family, in this period of trial. We are consoled, no doubt, by the fact that our beloved son has returned home, to rest in the bosom to his Maker and Father.
"Our confident assurance is rooted in the life of selflessness and sacrifice our son lived for Jesus Christ, our Saviour.
"Thank you so much for your prayers and words of encouragement.
"Our prayer is that, we will all make it to that glorious home, in Jesus mighty name."
Primate Ayodele Releases Strong Message For Gov Uzodinma, Blasts Garba Shehu
Primate Ayodele Releases Strong Message For Gov Uzodinma, Blasts Garba Shehu—The leader of INRI evangelical spiritual church, Primate Elijah Ayodele has released a strong message for the governor of Imo state, Hope Uzodinma regarding the unfortunate events that has been happening in Imo state for some time.
We recall that yesterday, the country home of the governor was attacked and razed by fire, with properties and vehicles getting burnt to ashes.
Primate Ayodele in a live session revealed that Governor Hope Uzodinma is being fought by forces of Imo land and that they want to ensure the state is ungovernable for him.
The man of God made it known that this is happening because Hope Uzodinma became governor in a wrong way, and that he is not meant to be governor of the state, hence, the coming together of forces to fight him.
He however stated that the solution for peace to return to Imo state is returning Emeka Ihedioha as governor of the state, if not, the forces will continue to attack.
'' It's unfortunate that this happened to Hope Uzodinma who has been working well to see that everything goes well in his state.
The fact is the forces are fighting the governor and that is why the state is being ungovernable for him. There is a conspiracy in his government and the forces of the land are fighting him. This happens when something that doesn't belong to you is given to you; forces will come together to fight you, forces are fighting him, let them do what is right by restoring Emeka Iheadioha back as governor of the state for peace to reign''
Also, the man of God blasted the SSA On media to President Buhari, Garba Shehu for his comments on Isa Pantami's travails.
Garba Shehu had said that Isa Pantami, a minister of communications was young when he made some statements that encouraged terrorism, and that he has changed his orientation now.
Also, he compared the situation of Isa Pantami to that of Kemi Adeosun who resigned due to some discrepancies in her NYSC ceritificate. The presidential aide noted that Kemi Adeosun's case is higher than Isa Pantami's.
Primate Ayodele in his reaction maintained that Garba Shehu is one of the people misleading this government, and that he needs to think deeply before saying anything.
'Garba shehu is one of the people misleading Buhari's government, I am not sure he thinks very deeply before commenting on issues, Kemi Adeosun's case doesn't even warrant resignation because it was not totally her fault, but she willingly resigned because she is a woman of integrity, honour and note when she discovered that her certificates are not in order
But what Pantami has done is related to terrorism, it involved terrorist groups, its shameful, he doesn't even need to say anything, the first thing is to resign before anything if he is an honorable person, this position they are dragging is just for the main time, why stain yourself forever for a post that won't exceed eight years? Garba shehu also needs to be investigated for supporting Isa Pantami in such way, With Isa Pantami in this cabinet, it's a disgrace to Nigeria, this will cause chaos, conspiracy in his government, why must he still be there, on what account? Are they serving the nation or their pocket? Someone who is serving the nation will leave with honour and not wait till anyone to molest him because as it is now, he has been molested by this act. This also berates out DSS, Senators who did screening for him''
Furthermore, He adviced the government to beef up the security in nigerian universities because the terrorists are everywhere in the country.
EXPOSED!!! Reason Why YouTube Suspended Pastor TB Joshua's Emmanuel TV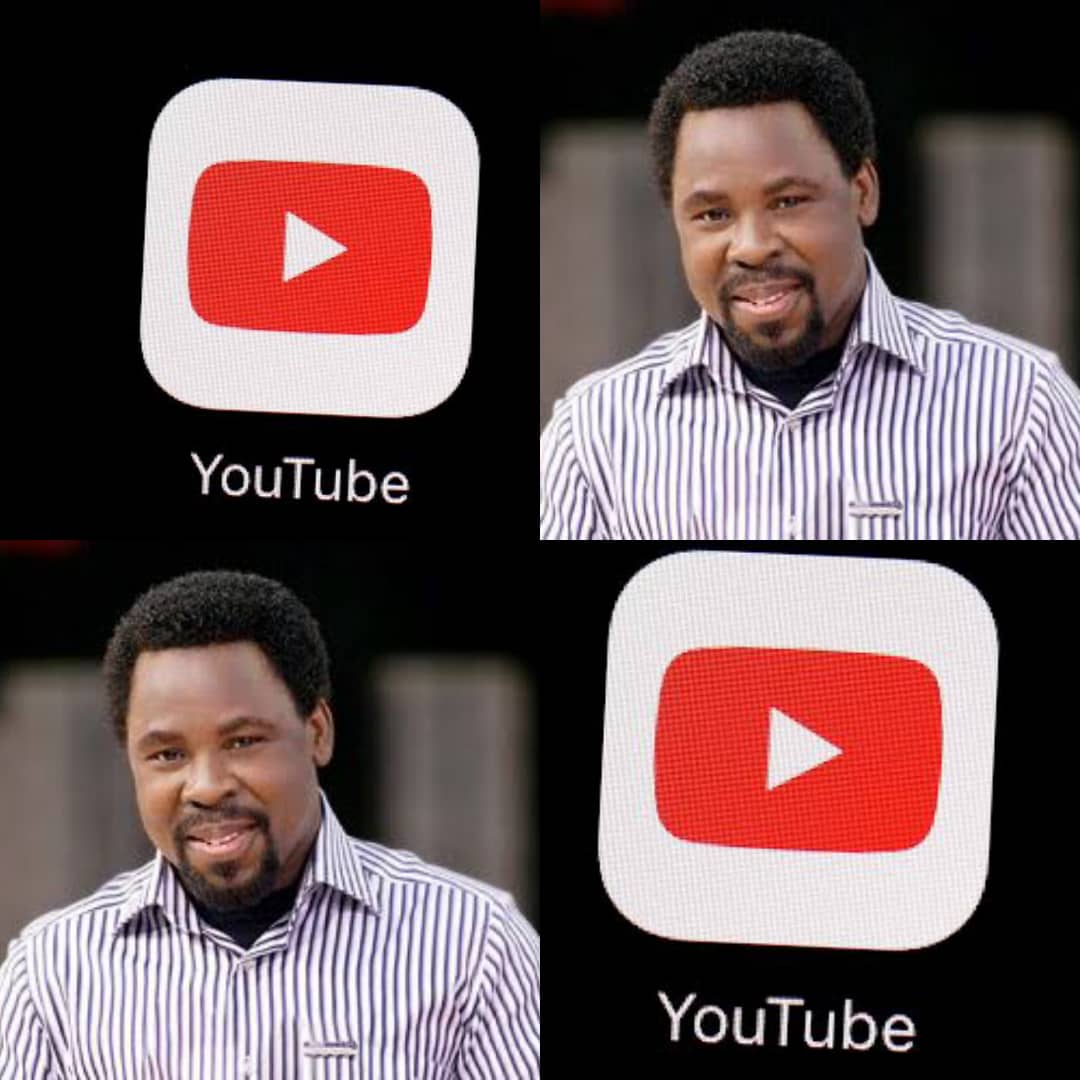 EXPOSED!!! Reason Why YouTube Suspended Pastor TB Joshua's Emmanuel TV—The Genius Media Nigeria reports that Emmanuel TV, a YouTube channel belonging to Pastor TB Joshua, the founder of Synagogue Church Of All Nations (SCOAN), has been suspended over allegations of propagating hate speech.
The clergyman took to his official Twitter page on Thursday to put out a statement where he confirmed the development.
Speaking in defense of the church's messages and sermons, he wrote;
Our mission is to share the love of God with everyone – irrespective of race or religion – and we strongly oppose all forms of hate speech!

We have had a long and fruitful relationship with YouTube and believe the decision was made in haste.
EMMANUEL TV YOUTUBE SUSPENSION:
Our mission is to share the love of God with everyone – irrespective of race or religion – and we strongly oppose all forms of hate speech! We have had a long and fruitful relationship with YouTube and believe this decision was made in haste. pic.twitter.com/gRqaQguo4o

— TB Joshua (@SCOANTBJoshua) April 15, 2021
Emmanuel TV, which has over 1.8 million subscribers and 600 million views, is acclaimed as being among the largest in Nigeria and one of the most-watched Christian ministries ever on the video-sharing platform.
The suspension came after the church had published a video titled 'The spirit of man is tormenting you', TB Joshua's personal prophecy about one Chetanna Nwabuwa, a Nigerian in Ghana who was allegedly possessed by a strange spirit.
In the video clip, the pastor prophecised that a man was possed by a strange spirit and requested that he should come out.
TB Joshua was heard in the video allegedly containing 'hate speech' saying;
God hates sin, not sinners. When the Bible says, 'Do not judge so that you will not be judged', it means we should hate sin, not the sinner because sinners can change. If you have killed a sinner by judging him, there will be no opportunity for change.

Sinners can be delivered. We should hate the act, not the people because our battle is not against flesh and blood but against the 'spirit beings' that cause all these acts.
This is the video that led to Emmanuel TV's suspension from @YouTube as it allegedly contained 'Hate Speech' https://t.co/rFDW1FA8js

Our mission is to share God's LOVE with everyone, irrespective of race or religion, and we strongly oppose all forms of hate speech! @TeamYouTube

— TB Joshua (@SCOANTBJoshua) April 15, 2021
On his verified Facebook page, the pastor urged Nigerians to raise their concerns over his channel's suspension on other social media platforms.
In 2019, YouTube had awarded Emmanuel TV a 'Gold Creator Award' for surpassing 1,000,000 subscribers.