LAGOS 2019: Sanwo Olu Fires Back At Ambode…….. Denies Ambode's Allegations
"Reacting to the allegations, Mr Sanwo-Olu said he would not engage in personal attacks against the governor but would rather make his pursuit of office based on issues that matter to Lagosians and not on attacks against someone's character."
All Progressives Congress (APC) governorship aspirant, Mr Babajide Sanwo-Olu, has responded to allegations levelled against him by Governor Akinwunmi Ambode earlier today during a World Press Conference which held at Lagos House, Alausa, Ikeja.
Governor Ambode had fired shots at Sanwo-Olu, saying he's unfit to govern Lagos; the governor went further to accuse Mr Sanwo-olu of spending fake dollars in the United States of America sometimes ago at a nightclub where he claimed that the Guber aspirant was arrested.
Speaking further, Ambode said "This is somebody that has gone for rehabilitation before.
The records are there at the Gbagada General Hospital. we don't want to go too far. Our leadership should have a rethink.
Reacting to the allegations, Mr Sanwo-Olu said he would not engage in personal attacks against the governor but would rather make his pursuit of office based on issues that matter to Lagosians and not on attacks against someone's character.
Below is the official release:
TIME TO RESPECT THE PEOPLE OF LAGOS STATE AND THE OFFICE OF THE GOVERNOR
Let it be heard by all that I hold the people of Lagos state with great respect and affection. Their welfare is my utmost concern and it is what drives my pursuit for the governorship nomination of the APC.
As such, I also hold the office of governor of our state in high esteem. I shall never consciously do anything that will undermine the dignity of the office nor will I engage in personal attacks against the holder of that officer. My pursuit of office will continue to be based on issues that matter to Lagosians and not on attacks against someone's character, even when he attacks mine. For anyone to engage in unwarranted character attacks against me, reveals more about that person's character than it says about mine.
Thus, I felt sad for Lagos as I watched Press Conference by Governor Akinwunmi Ambode. Many things he said was beneath the dignity of our people and the exalted office he now holds. Perhaps the tension and anxiety of the moment got the better of him. If given a chance at a cooler reflection of what he said, I am sure he would regret his descent into such low conduct. In this vein, I forgive him and hope he regains his balance and proper comportment no matter the outcome of tomorrow's contest. After all, we are both here to improve Lagos not to wrestle in its streets.
However, I must clear up some inaccuracies in the Governor's statement. His allegation that I was arrested for spending fake dollars at a nightclub in the United States was untrue. In fact, the governor knows I travelled to the United States just last month. I would not have been allowed to travel or even get a visa if I had been involved in what the Governor falsely alleged.
That the Governor claimed I underwent some unidentified type of "rehabilitation" at the Gbagada General Hospital was also shameless and untrue. Promulgation of salacious rumour should not be part of the job description of a governor.
This is not the stuff of high office. People should question whether itis ethically right for the Governor to turn what should be confidential medical information about a citizen into a weapon of political warfare? But for the avoidance of doubt, let it be stated that I never received any treatment whatsoever at the Gbagada General Hospital.
Today, instead of making a convincing defence of his performance, Mr. Akinwunmi Ambode sought to sow fear into the hearts of Lagosians.
But Lagosians are intelligent and brave people. They can see through the smoke and the fog. I am here not to tear my opponent down but to help build Lagos up.
With me, you will hear about progress in education, health, sanitation, proper tax levels, economic development, infrastructure, jobs, public services and other things that enhance the lives of people. I am a serious person and this primary is a serious matter. I have not the time or inclination to attack character when there are so many real issues to address.
We will continue to focus on the issues that matter in the lives of the people of Lagos.
Lagosians want an answer to the sanitation crisis cast loss of jobs caused by Mr. Ambode's Visionscape misadventure. Our people will want to know why Mr. Akinwunmi Ambode has not been able to build a single General Hospital in the State when his immediate predecessor Mr. Babatunde Raji Fashola (SAN) built 11 General Hospitals. Lagosians are waiting to hear what our solutions are. They want to know why hundreds of competent civil servants got summarily dismissed and how this has undermined public services.
As a candidate for the party's nomination and hopefully as your next governor, my approach will not be to sling insults but to propose solutions to the problems of the day.
The Genius Media.
JUST IN: Nationwide Protest To Remove President Buhari Holds On Democracy Day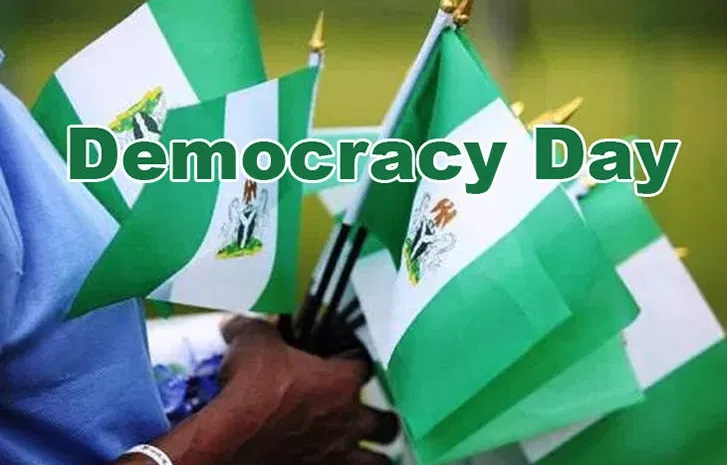 JUST IN: Nationwide Protest To Remove President Buhari Holds On Democracy Day—-Which "democracy day" are they talking about – the real one (29 May) or fake one (12 June)? Whichever, anyone contemplating such a protest is naive and misguided, as naive and misguided as those expecting President
Buhari to restructure Nigeria!
It is an unfortunate characteristic of certain Nigerians to indulge in unreasonable expectations. Even when the solution to their problem is obvious to all reasonable minds, the unreasonable ones disturb our peace with their unreasonableness.
Look, Nigerians, take measures (including acquiring weapons of self-defence and fervent prayer) to avert a religious and inter-tribal war that is loading for 2022.
With that war averted and Nigeria getting another chance to exist as one country, massively support a South-Easterner to succeed President Buhari – on APC platform, of course.
With a South-Easterner as President of Nigeria from 29th May 2023, restructuring will happen naturally. Restructuring is South-Eastern as South-Eastern is restructuring.
What we see is that those calling for exit of President Buhari from office before 29th May 2023 and those unreasonably asking him to restructure Nigeria are mischievous individuals who want to truncate the very high prospect of a South-Easterner succeeding him on APC platform, thereby ending Nigeria violently.
They know that realistic promise of President of Nigeria of South-East extraction on APC platform from 29th May 2023 is now the only guarantee of Nigeria's unity, peace, security, prosperity and true greatness – for the first time in history.
We shall not let them plunge Nigeria into avoidable destructive crisis from which the country will not survive. We must help them to stop that silly pressure on President Buhari to restructure Nigeria or to vacate Aso Rock Presidential Villa prematurely.
BOMB!!! FFK Says Bola Ahmed Tinubu Is Closer To 100 Years Than Claimed 69
Ohanaeze Ndigbo And The Quest For President Of Nigeria Of South-East Extraction
Ohanaeze Ndigbo And The Quest For President Of Nigeria Of South-East Extraction—-Over the years, since South-East APC Integrity Group was founded in 2015 and its South-East APC Presidency Project 2023 was launched in January 2020, we have quietly and pleasantly observed the positive disposition of successive Ohanaeze Ndigbo leadership to our quest for emergence of Nigeria's President of South-East extraction.
Since His Excellency, Ambassador Professor George Obiozo became President General of the Igbo sociocultural organisation, he has taken that positive Ohanaeze disposition to a much higher and more determined level, and we must commend his patriotism, determination and focus.
However, Ohanaeze is not a political party and it is in fact not expected to dabble into partisan politics. By all means, let Ohanaeze express their sentiments on the question of where President Buhari's successor would come from, after all, Ohanaeze leaders and members are equal stakeholders in the Nigerian project. But the issue of who would become President Buhari's successor will be settled first at political party primaries.
And Ohanaeze, not being a partisan organisation, will not be in a position to dictate to any party the area that it should pick its presidential flag-bearer from.
So, the Ohanaeze advocacy on the subject must be understood to have limited expectations. What we expect Ohanaeze to do is to charge its members and Igbo persons who are members of the various political parties to engage their party structures with a view to persuading them to vote for the best South-Easterner aspiring for Presidency on their party platform.
That is what South-East APC Presidency Project 2023 has been going since January 2023 and will continue to do, that is, engaging APC structures to support the best presidential aspirant of South-East extraction that we will recommend to our party (APC) to become our party's 2023 presidential candidate.
We expect PDP members and members of other parties who are of South-East or even Igbo extraction to emulate South-East APC Presidency Project 2023.
At the end of the day, following the presidential primaries of the various political parties, the South-Easterner picked by the most serious party will be presented to Ohanaeze, PANDEF, Afenifere, ACF, Middle Belt Forum and other sociocultural organisations for their support of that presidential candidate of South-East extraction.
For now, let PG Obiozo and his fellow Ohanaeze leaders go quiet on 2023 Nigeria's presidential aspiration, lest their zeal and passion become deliberately misinterpreted by Igbophobes and other enemies of Nigeria's peace, reconciliation, unity, security and prosperity.
Dr. Chinedu Jideofo-Ogbuagu,
National Coordinator,
South-East APC Presidency Project 2023.
08023163451, 08077010324, 07068400040.