LAGOS APC PRIMARIES: Tinubu Breaks Silence, Praises Sanwo-Olu As A Credible Candidate.
"By resort to direct primaries, the party places the people's future soundly in their hands. As democracy would have it, you shall be the authors of the party's nomination and hopefully our next state government. I trust in the wisdom of the people and will abide it."
The national leader of the All Progressives Congress (APC), Asiwaju Bola Tinubu has sort of endorsed Jide Sanwo-Olu as the governorship candidate of the party in Lagos ahead of the primary election.
In a statement released on Sunday, September 30, the former governor of Lagos state noted that the state follows a blueprint that has guided the success of his own and Babatunde Fashola's administration.
Tinubu hinted that Ambode has failed to follow this plan and thus called on members of the party to vote for Sanwo-Olu.
He described him as someone who understands the plan of the state and said he will personally participate in the state primaries.
Read the statement below:
Tomorrow, our party and the people of Lagos will have an encounter with destiny. We shall hold our governorship primary.
With the holding of direct primaries to elect governorship candidates in Lagos and other states, the APC takes a groundbreaking step toward greater internal democracy and progressive governance for the benefit of all people.
While our party is young, it has grown fast and has travelled far in a short time. This speaks well of the character of you, the party's rank-and-file members. What, in other nations, has taken political parties generations to achieve, we have done in a few brief years. No other party in Nigeria dare attempt what we have already dedicated ourselves to do.
I thank and commend all APC members and all Lagosians who have lent their support to this historic and humane mission upon which our party has embarked. We are Democrats in the truest sense of the word.
As such, we forever search for what is good and right for the people. With this ideal as our guide, tomorrow's primary cannot be shaded by selfish ambition or the perceived personal grievance between this or that person. Something much greater waits in the balance. What is at stake is nothing less than the future of the people of this state and how we can best maximise our collective destiny.
By resort to direct primaries, the party places the people's future soundly in their hands. As democracy would have it, you shall be the authors of the party's nomination and hopefully our next state government. I trust in the wisdom of the people and will abide it.
However, as a leader of the party and as a former governor of our beloved and excellent Lagos, I would be remiss if I did not make a few observations regarding the primary. My goal is and shall always be a better Lagos.
To this objective, I have dedicated the greater part of my public life. Roughly 20 years ago, a corps of dedicated and patriotic Lagosians, put aside personal interests and rivalries, to put their minds and best ideas together for the good of the state.
Out of this collaborative effort, was born a master plan for economic development that would improve the daily lives of our people. Bestowed on me was the honour of a lifetime when I was elected to be your governor in 1999. My administration faithfully implemented that plan.
The government of my immediate successor, Tunde Fashola, also honoured this enlightened plan. Where state government remained true to that blueprint, positive things happened.
During my tenure and Governor Fashola's, Lagos state recorded improvements in all aspects of our collective existence, from public health to public sanitation, from education to social services, from the administration of justice to the cleaning of storm and sewage drains. Businesses, large and small, invested, hired millions of workers and thrived.
All Lagosians were to fully participate and justly benefit from the social dividends and improvements wrought by this plan. From the common labourer to business leaders, to professionals and our industrious civil service. We all were to be partners in a monumental but joint enterprise. None was to be alienated. None was to be left out. And none were to be pushed aside.
This is especially true for those who contributed so much to our development, whether as a business leader who has invested heavily in Lagos, the homeowner who struggles to pay his fair share of taxes or as someone employed in the hard work of keeping our streets and byways clean so that others may go about their daily tasks unimpeded. I make no pretence that the master plan is perfect. It can always be fine-tuned.
However, whenever a government departed from this plan without a compelling reason, the state and its people have borne the painful consequence of the improper departure.
To ignore this blueprint for progress in order to replace it with ad-hoc schemes of a materially inferior quality contravenes the spirit of progressive governance and of our party. Such narrowness of perspective does not bring us closer to our appointed destination; it takes us farther from that destiny.
For reasons unknown to me and most Lagosians, we have experienced such deviations from enlightened governance recently. This trend is that which most concerns me as the primary nears. We must arrest this trend before irreparable harm is committed against the people and their future.
For the record, let it be known that I shall vote in this primary because I see it as one of extreme import to our state and our party. Just as I shall vote, I equally urge all party members to do so. We must vote in a manner that returns Lagos to its better path, the one that promises a just chance for all to enjoy the fruits of our prosperity.
We must always pursue our goal of a Lagos energised by creative dynamism, tolerance of others, and guided by a leadership capable of extending a collegial hand to all stakeholders, far and wide.
I am encouraged by the emergence of a candidate in this primary who has served the state in senior positions in my administration, the Fashola administration and even in the current one. While possessing a wealth of experience and exposure, he is a young man endowed with superlative vision and commitment.
Most importantly, he understands the importance of the blueprint for development. He esteems it as a reliable and well-conceived vehicle for the future development of the state. He also knows the value of reaching out and working with others in order to maximize development and provide people with the best leadership possible.
With people like him at the helm, the state will write the proper history for itself. When the final word is given let it be said that we want all Lagosians to look to the future with the hope and optimism that our best days remain before us and not behind us.
We walk into this primary strong and confidently believing in the right course we are to take. We shall emerge from this primary even stronger and more confident that we have taken that course by returning Lagos and our party to their finest path.
The Genius Media.
JUST IN: Nationwide Protest To Remove President Buhari Holds On Democracy Day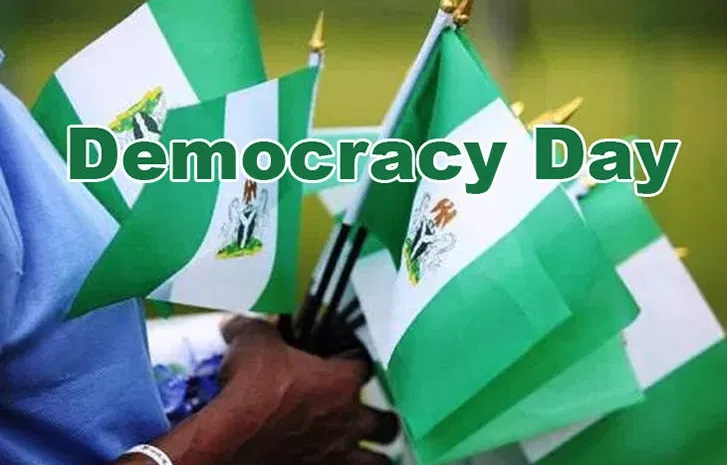 JUST IN: Nationwide Protest To Remove President Buhari Holds On Democracy Day—-Which "democracy day" are they talking about – the real one (29 May) or fake one (12 June)? Whichever, anyone contemplating such a protest is naive and misguided, as naive and misguided as those expecting President
Buhari to restructure Nigeria!
It is an unfortunate characteristic of certain Nigerians to indulge in unreasonable expectations. Even when the solution to their problem is obvious to all reasonable minds, the unreasonable ones disturb our peace with their unreasonableness.
Look, Nigerians, take measures (including acquiring weapons of self-defence and fervent prayer) to avert a religious and inter-tribal war that is loading for 2022.
With that war averted and Nigeria getting another chance to exist as one country, massively support a South-Easterner to succeed President Buhari – on APC platform, of course.
With a South-Easterner as President of Nigeria from 29th May 2023, restructuring will happen naturally. Restructuring is South-Eastern as South-Eastern is restructuring.
What we see is that those calling for exit of President Buhari from office before 29th May 2023 and those unreasonably asking him to restructure Nigeria are mischievous individuals who want to truncate the very high prospect of a South-Easterner succeeding him on APC platform, thereby ending Nigeria violently.
They know that realistic promise of President of Nigeria of South-East extraction on APC platform from 29th May 2023 is now the only guarantee of Nigeria's unity, peace, security, prosperity and true greatness – for the first time in history.
We shall not let them plunge Nigeria into avoidable destructive crisis from which the country will not survive. We must help them to stop that silly pressure on President Buhari to restructure Nigeria or to vacate Aso Rock Presidential Villa prematurely.
BOMB!!! FFK Says Bola Ahmed Tinubu Is Closer To 100 Years Than Claimed 69
Ohanaeze Ndigbo And The Quest For President Of Nigeria Of South-East Extraction
Ohanaeze Ndigbo And The Quest For President Of Nigeria Of South-East Extraction—-Over the years, since South-East APC Integrity Group was founded in 2015 and its South-East APC Presidency Project 2023 was launched in January 2020, we have quietly and pleasantly observed the positive disposition of successive Ohanaeze Ndigbo leadership to our quest for emergence of Nigeria's President of South-East extraction.
Since His Excellency, Ambassador Professor George Obiozo became President General of the Igbo sociocultural organisation, he has taken that positive Ohanaeze disposition to a much higher and more determined level, and we must commend his patriotism, determination and focus.
However, Ohanaeze is not a political party and it is in fact not expected to dabble into partisan politics. By all means, let Ohanaeze express their sentiments on the question of where President Buhari's successor would come from, after all, Ohanaeze leaders and members are equal stakeholders in the Nigerian project. But the issue of who would become President Buhari's successor will be settled first at political party primaries.
And Ohanaeze, not being a partisan organisation, will not be in a position to dictate to any party the area that it should pick its presidential flag-bearer from.
So, the Ohanaeze advocacy on the subject must be understood to have limited expectations. What we expect Ohanaeze to do is to charge its members and Igbo persons who are members of the various political parties to engage their party structures with a view to persuading them to vote for the best South-Easterner aspiring for Presidency on their party platform.
That is what South-East APC Presidency Project 2023 has been going since January 2023 and will continue to do, that is, engaging APC structures to support the best presidential aspirant of South-East extraction that we will recommend to our party (APC) to become our party's 2023 presidential candidate.
We expect PDP members and members of other parties who are of South-East or even Igbo extraction to emulate South-East APC Presidency Project 2023.
At the end of the day, following the presidential primaries of the various political parties, the South-Easterner picked by the most serious party will be presented to Ohanaeze, PANDEF, Afenifere, ACF, Middle Belt Forum and other sociocultural organisations for their support of that presidential candidate of South-East extraction.
For now, let PG Obiozo and his fellow Ohanaeze leaders go quiet on 2023 Nigeria's presidential aspiration, lest their zeal and passion become deliberately misinterpreted by Igbophobes and other enemies of Nigeria's peace, reconciliation, unity, security and prosperity.
Dr. Chinedu Jideofo-Ogbuagu,
National Coordinator,
South-East APC Presidency Project 2023.
08023163451, 08077010324, 07068400040.