Rite Foods Excites Sports Enthusiasts At Elegushi Peace Cup Tournament In Lagos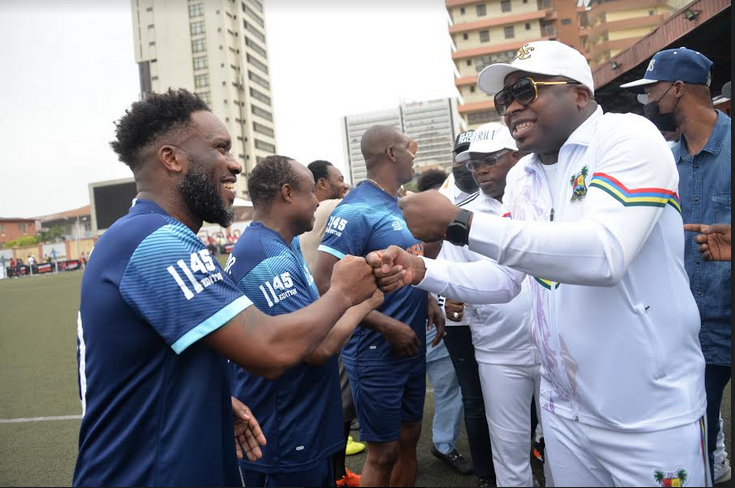 Rite Foods Excites Sports Enthusiasts At Elegushi Peace Cup Tournament In Lagos—-Rite Foods Limited, a truly world-class and proudly Nigerian foods and beverages company, on Friday, dazzled fans of celebrities, sport lovers, guests and Lagos residents as it threw its weight behind the 11:45 edition of Elegushi Peace Cup, that kept fans, spectators and guests in excitement.
The Elegushi Peace Cup was characterized by celebrity football matches at the Campus Mini Stadium, Lagos Island, to commemorate the 11th coronation anniversary and 45th birthday celebration of His Royal Majesty, Alaiyeluwa, Oba Saheed Ademola Elegushi (Kusenla III), the Elegushi of Ikateland, who also flagged-off the tournament.
According to Oba Saheed Elegushi, the vision of the Elegushi Peace Cup is to promote peace and unity through passion. It is His Royal Majesty's belief that for peace to reign in Nigeria, every stakeholder must rise up at this critical period with good initiatives that will complement the existing efforts by the various arms of government, and that 'the traditional institution, as the custodians of the nation's history and heritage must be supported to lead this new drive.'
"While the 'Elegushi Peace Cup is the project, the Legends for Peace is the platform," he said.
In her remark, the Assistant Brand Manager, Rite Foods Limited, Bolu Adedugbe, stated that the company, is committed to promoting the cultural values and heritage of the people as well as youth and sports development by creating valuable experiences through such platforms, hence, it has decided to celebrate with the Oba who is keenly interested in youth and sport development.
"Elegushi Peace Cup created the platform for us to emotionally connect with our consumers and actively engage in community development to encourage sports and promote peace. The Fearless energy drinks brand being the frontline sponsor shows the brand is on the right platform as it has created its desired experience for consumers," she stated.
She further congratulated the Oba for being a pillar of support for youths by championing causes to promote peace and unity.
It was an exciting experience for all as four teams which comprised team Nollywood, team Music, team Comedy and team Soccer, played a novelty tournament to promote peace and unity among Nigerians, especially the youths.
Team Nollywood players were top actors and film makers in the movie industry like AY, Fred Amata, IK Ogbonna, Rykardo Agbor amongst others. The music team comprised performing music stars and music makers like Zlatan, TG Omori, Praiz, Spyz etc.
Ex-super Eagles stars like Jay Jay Okocha, Kanu Nwankwo, Daniel Amokachi, Ikpeba, Garba Lawal made up team soccer while team comedy includes top comedians like Akpororo, I go Save, Maleke, AY etc.
In the tournament, Team Nollywood emerged winners, thus clinching the trophy, with the next edition dubbed 12:46.
The 'Fearless' Energy brand as well as other Rite Foods products were readily available to keep all players, guests and fans refreshed and energized for the occasion that was spiced up by entertaining moments of football played by A-list celebrities and ex-international award-winning players, leaving fans clamoring for more enjoyment already created by the Rite Foods brand.
Fayemi, Sanwo-Olu, Amosun And Others Celebrate Shina Peller As Exemplary Leader At 45 [PHOTOS]
Fayemi, Sanwo-Olu, Amosun And Others Celebrate Shina Peller As Exemplary Leader At 45 [PHOTOS]—–Chairman of the Nigeria Governors' Forum (NGF) and Ekiti State governor, Dr. John Kayode Fayemi, Lagos State governor, Babajide Olusola Sanwo-Olu, immediate past Ogun State governor, who is now a serving senator, Senator Ibikunle Amosun and other important personalities both home and outside the country have joined in celebrating Hon. Shina Peller on the occasion of his 45th birthday anniversary.
Fayemi, Sanwo-Olu, Amosun And Others Celebrate Shina Peller As Exemplary Leader At 45 [PHOTOS]
Speaking on Friday at the National Security and Peace Symposium organized by Lead Generation Initiative (LGI) to mark the 45th birthday of the federal legislator, Dr. Fayemi, who was also the Chairman of the occasion, commended Hon. Peller and LGI for choosing to celebrate his birthday with such a purposeful security symposium as part of his own contribution to addresing the menace of insecurity in the country.
Similarly, Dr. Fayemi added that the security and other challenges that the country battles with can be overcome if the causes of the problems are reasonably addressed and dealt with. He listed some of the causes to include poverty, inequality and unemployment.
He said,
"We are all here because we believe in a cause we need to commit ourselves. At the moment, we know our country is going through a lot of challenges. But these challenges are not insurmountable. These are challenges we can overcome.
"Countries that are in more security situation than Nigeria have overcome it. We can achieve this if we are single-minded, if there is sincerity of purpose, if we are committed about transforming Nigeria for the better, and understanding our challenges for what they are.
"If we are honest, purpose driven, dedicated and determined, we will put behind all the triggers of violence in the land; be it insurgency, banditry, kidnapping, armed robbery and so on, as long as we are tough on the causes of the crime. We all know the causes of the crimes in our country. Inequality, poverty and unemployment are major aspects of it."
In his own congratulatory message to the celebrant, Lagos State governor, Babajide Olusola Sanwo-Olu in a congratulatory birthday letter he personally signed, described Hon. Peller as an exemplary politician, a patriotic Nigerian, a selfless member of the House of Representatives and a worthy ambassador of Oyo State. Governor Sanwo-Olu added that he is ever proud of the giant strides he has made in politics and described his contributions to the development of his constituency as unparalleled.
The letter read:
"On behalf of the Government and people of Lagos State, I congratulate you on your 45th birthday.
"The anniversary of your birthday provides an opportunity to celebrate you for being an exemplary politician, a patriotic Nigerian, a selfless member of the House of Representatives and a worthy ambassador of Oyo State.
"Despite the challenges associated with representing diverse people, you have demonstrated uncommon love for your constituents, and the uncanny ability to prioritize their interests.
"I am proud of the giant strides you have made in politics and your unparalleled contributions to the development of Iseyin/Itesiwaju/Kajola/Iwajowa Federal Constituency.
"The Peace and Security Symposium being organized to mark your birthday embodies your love for the continued unity, peace and wellbeing of Nigeria. As you celebrate your 45th birthday, I pray for better strength and wisdom to keep serving your people.
"May your life remain impactful, productive and inspirational."
Senator Ibikunle Amosun, in his own congratulatory letter, maintained that Hon. Peller's life is an eventful one with many positive impacts both in business and politics. He prayed that God grants him long life in good health so that his constituents, Oyo State and Nigeria at large will continue to benefit from his service.
The letter read in part:
"Yours has been an eventful life with many positive impacts, most notably, in business and politics. I wish you a happy birthday, and pray that Almighty God will grant you more years, in good health so that your constituency, Oyo State and the nation at large, will continue to benefit from your service."
Other prominent personalities who were at the National Security and Peace Symposium to celebrate Hon. Peller's 45th birthday included former Governor of Oyo State, Otunba Adebayo Alao-Akala, former Governor of Ogun State Senator Ibikunke Amosun, former ministers; Senator Musiliu Obanikoro, Barrister Adebayo Shittu and wife of the immediate past Governor of Oyo State, Senator Abiola Ajimobi, Mrs. Florence Ajimobi.
Furthermore, the symposium with the theme – National Security and Peace: Role of Government, Citizens and Institutions", which had Professor Isaac Olawale Albert as the keynote lecturer, also witnessed the presence of HRM Oba Saliu Adetunji, Olubadan of Ibadan, HRM Oba Abdul-Rasheed Adewale Akanbi, Oluwo of Iwo Land, HRM Oba Rafiu Mustapha, Onjo of Okeho, representatives of the Alaafin of Oyo and Ooni of Ife as well as other revered royal fathers and traditional chiefs.
Also in attendance were some members of the House of Representatives like Hon. Akin Alabi, Hon. Musiliu Akinremi, Hon. Akeem Adeniyi Adeyemi, Hon. Tolulope Akande-Sadipe, Hon. Femi Bamisile, Hon. Olumide Ojerinde and others.
JUST IN: Nationwide Protest To Remove President Buhari Holds On Democracy Day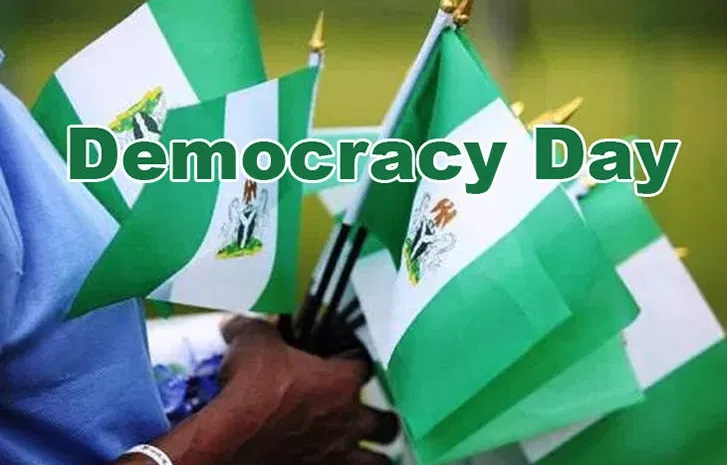 JUST IN: Nationwide Protest To Remove President Buhari Holds On Democracy Day—-Which "democracy day" are they talking about – the real one (29 May) or fake one (12 June)? Whichever, anyone contemplating such a protest is naive and misguided, as naive and misguided as those expecting President
Buhari to restructure Nigeria!
It is an unfortunate characteristic of certain Nigerians to indulge in unreasonable expectations. Even when the solution to their problem is obvious to all reasonable minds, the unreasonable ones disturb our peace with their unreasonableness.
Look, Nigerians, take measures (including acquiring weapons of self-defence and fervent prayer) to avert a religious and inter-tribal war that is loading for 2022.
With that war averted and Nigeria getting another chance to exist as one country, massively support a South-Easterner to succeed President Buhari – on APC platform, of course.
With a South-Easterner as President of Nigeria from 29th May 2023, restructuring will happen naturally. Restructuring is South-Eastern as South-Eastern is restructuring.
What we see is that those calling for exit of President Buhari from office before 29th May 2023 and those unreasonably asking him to restructure Nigeria are mischievous individuals who want to truncate the very high prospect of a South-Easterner succeeding him on APC platform, thereby ending Nigeria violently.
They know that realistic promise of President of Nigeria of South-East extraction on APC platform from 29th May 2023 is now the only guarantee of Nigeria's unity, peace, security, prosperity and true greatness – for the first time in history.
We shall not let them plunge Nigeria into avoidable destructive crisis from which the country will not survive. We must help them to stop that silly pressure on President Buhari to restructure Nigeria or to vacate Aso Rock Presidential Villa prematurely.
S&P: FBNH And FirstBank Boards' Changes Ensured Stability
S&P: FBNH And FirstBank Boards' Changes Ensured Stability—-S&P Global Ratings said changes to the boards of First Bank of Nigeria Limited and FBN Holdings (FBNH) Plc, recently directed by Central Bank of Nigeria (CBN), addressed the banking group's corporate governance challenges and ensures the Nigerian banking sector's financial stability.
In a statement, it stated that its ratings on FBN and other Nigerian banks remain constrained by shortcomings in corporate governance and transparency, among other factors.
The CBN recently replaced the entire boards of FBN and FBNH, and reinstated the former executive directors and CEO, Dr. Adesola Adeduntan.
The CBN had also requested FBN unwind certain exposures and divest from its participation in a non-permissible company, also pointing to potential corporate governance lapses at the bank.
"However, Dr. Adeduntan's reinstatement and the re-appointment of the other executive directors underscores the CBN's confidence in the existing management team to continue the turnaround of the third-largest banking group in Nigeria, which has total assets of Nigerian N7.7 trillion.
"We are of the view that the CBN's historical approach has been more reactive than proactive, as illustrated by the Skye Bank episode. That said, recent actions, while disruptive in the near-term, may signal a more direct and possibly decisive supervisory approach to alleged failings in the management and governance of regulated institutions," it stated.
It, noted that FBN's overall credit profile has gradually stabilised since 2016, with a capital adequacy ratio of 17 percent in 2020, as against a 15 percent minimum requirement.
Similarly, the bank's asset quality indicators improved significantly, with Non-Performing Loans (NPLs) reducing to 7.7 percent in 2020, from 20-25 percent since 2016.